WATE 6 Tennessee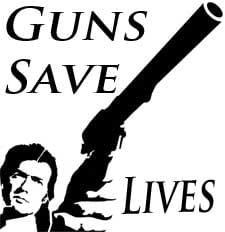 USA –-(Ammoland.com)- Somewhere, everyday in the USA, 2100+ people use a gun for self defense, to stop a crime or save the lives of themselves or their family.
"We believe that the American public deserve to understand that on the average, guns save 2,191 lives and are used to thwart crimes every day," says Alan Gottlieb of the Second Amendment Foundation
Most times you won't see these tales on the news as it does not fit the main stream media's story line of "Guns and Gun Owners are Bad".
This is just one of those stories;
STRAWBERRY PLAINS (WATE) – A homeowner shot and killed an intruder who broke into their East Knox County residence on Wednesday morning.

According to the Knox County Sheriff's Office, the homeowner living at 1001 Randles Road woke up to the sound of broken glass from the front window.

Deputies say the he fired one round from a gun, from the bedroom to the living room.

The intruder, later identified as James Melvin Vinson, 40, was struck and fell backward onto the porch, according to preliminary reports from deputies. Vinson died as a result of his injuries.

Deputies say Vinson had an extensive criminal history with the Knox County Sheriff's Office and Knoxville Police Department and had two outstanding warrants in Knox County, related to a theft charge and a violation of probation. His criminal history includes theft and drug charges.

Web Extra: Vinson's criminal history [PDF]

No information about the homeowner has been released at this time.
About the Guns Save Lives Series:
Every few days AmmoLand Shooting Sports News will be featuring a new report of stories involving self defense with a hand gun. Be sure and share, like and Tweet these posts and help spread the truth that "Guns Save Lives". See more at www.AmmoLand.com ( http://tiny.cc/s6ef2w )