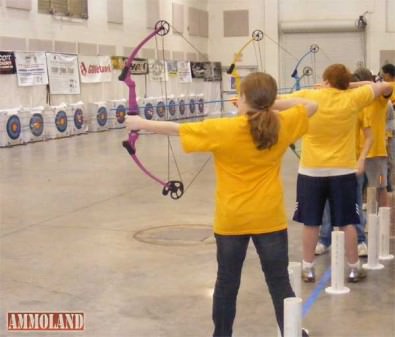 Georgia -(Ammoland.com)- For the third consecutive year, two Georgia elementary archery teams placed in the top five in the nation at the National Archery in the Schools Program National Tournament.
Cohutta Elementary's archery squad missed a national title by 12 points, placing second in the elementary team division with a score of 3,227. Woodlawn Elementary, a two-time national champion, also finished on the podium with a team score of 3,223 and a third place finish at the 12th annual national tournament.
More than 12,000 archers from 42 states competed at the Louisville Exposition Center May 7-9 during the world's largest archery tournament. Georgia had 500 students compete in the tournament from more than 25 schools that qualified for nationals. Four Georgia elementary schools finished in the top 12 in the country (Bethlehem Elementary 9th, Bay Creek Elementary 12th). Bay Creek Elementary was the only elementary school in the country to qualify and transport two teams to the national tournament.
Loganville Middle School placed 12th in the middle school division with a score of 3,303 and North Murray High School finished 23rd in the high school division with a score of
3,356. About 150-200 of the top teams in the country competed in each division.
Dodge County High's Morgan Graham, who won the top overall male shooter at the 2015 Georgia NASP State Championship, fired a 295 to finish sixth nationally in the high school male division, just three points shy of the overall high score. He was the top 12th grade male at the tournament. Graham was selected to the 2015 NASP All-Star Championship Team, which will compete against the top shooters from other countries at the NASP World Championship held July 23-25 in Nashville, Tenn.
North Murray High's Haley Bagley, Georgia's top female shooter at state, shot a 291 and was the top 10th grade female at nationals.
Woodlawn Elementary's Mattie Nuckolls finished first in the fourth grade female division with a score of 280. Cohutta Elementary also finished second in the NASP IBO 3-D Challenge, a separate 3-D archery tournament held during the national competition.
Complete tournament results are online at www.nasptournaments.com.
MORE ABOUT NASP
NASP is an in-school archery curriculum that meets all education department standards. Only schools that are certified in NASP through the Georgia Department of Natural Resources are qualified to compete. Schools in more than 100 counties in Georgia are NASP certified and over 200 schools teach the program in P.E. or other courses.
The program promotes instruction in international-style target archery to improve educational performance and participation in shooting sports.  Research has shown that the program, administered through a minimum two-week course during the school year, improves class attendance and behavior. NASP universal fit bows make it possible for students of all sizes and genders to succeed in archery while raising self-esteem levels and improving hand-eye coordination during physical activity.
NASP is taught in 47 states as well 10 countries. To date, more than 12 million students have gone through the program.
For more information on NASP in Georgia, recreational shooting sports opportunities or to find a range near you, visit www.georgiawildlife.com