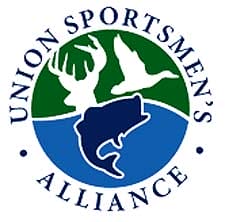 Nashville, TN -(Ammoland.com)- The Union Sportsmen's Alliance (USA) is pleased to announce that the United Auto Workers (UAW) have revved up their support by joining the AFL-CIO, BCTD and 10 other affiliate unions as the USA's newest charter union.
"The Auto Workers have been very active with the Union Sportsmen's Alliance over the years, and we're thrilled they have come on board as a charter union to provide strategic guidance and resources," said USA Executive Director Fred Myers. "The support of nearly one million active and retired union auto workers will go a long way to further the USA's mission to unite the union community through conservation to preserve North America's outdoor heritage."
Boasting a long-standing relationship, the USA and UAW already have partnered on a number of regional and local activities. The USA supports UAW Region 4 Sportsman's Banquet each year, while Region 4 participates in the USA's Gun-A-Week calendar program. In Tennessee, UAW Local 1853 worked with the USA to host a Sportsmen's Appreciation Day for it members, and in Kansas, the USA assisted UAW Local 31 with its CAP fundraiser. In Illinois, UAW Local 145 members are building kiosks and pouring a grill pad at Starved Rock State Park as part of the USA's Work Boots on the Ground program.
Thanks to the support the USA receives from the UAW as a charter union, the USA is able to offer all active and retired UAW members a no-cost USA membership, which provides access to the USA's digital magazine, national promotions and giveaways, deals and discounts, members-only sections of the website and more.
Members also have the opportunity to apply for a hunting or fishing trip on the USA's award-winning outdoor TV series, Brotherhood Outdoors. UAW Local 838 member Aaron Heying was recently chosen for a New Mexico bear hunt, which will air on Sportsman Channel in early 2016.
"We know that many UAW members relax and unwind after a long week by hunting, fishing and simply spending time outdoors. We also know that's how thousands of our retired members are spending their golden years," said UAW President Dennis Williams. "We're proud to support an organization that helps our hardworking men and women enjoy the activities their passionate about, while providing them with an avenue to put their skills to work for conservation."
About United Auto Workers
The International Union, United Automobile, Aerospace and Agricultural Implement Workers of America (UAW) is one of the largest and most diverse unions in North America, with members in virtually every sector of the economy. UAW-represented workplaces range from multinational corporations, small manufacturers and state and local governments to colleges and universities, hospitals and private non-profit organizations. The UAW has more than 390,000 active members and more than 600,000 retired members in the United States, Canada and Puerto Rico.
For more information, visit www.uaw.org.
About the Union Sportsmen's Alliance
The Union Sportsmen's Alliance (USA) is a union-dedicated, 501(c)(3) nonprofit organization whose members hunt, fish, shoot and volunteer their skills for conservation. The USA is uniting the union community through conservation to preserve North America's outdoor heritage.
For more information, visit www.unionsportsmen.org, www.facebook.com/unionsportsmen or www.twitter.com/unionsportsmen.