Hotshot Cartridge Gains Ground Among Shooters, Gun Makers.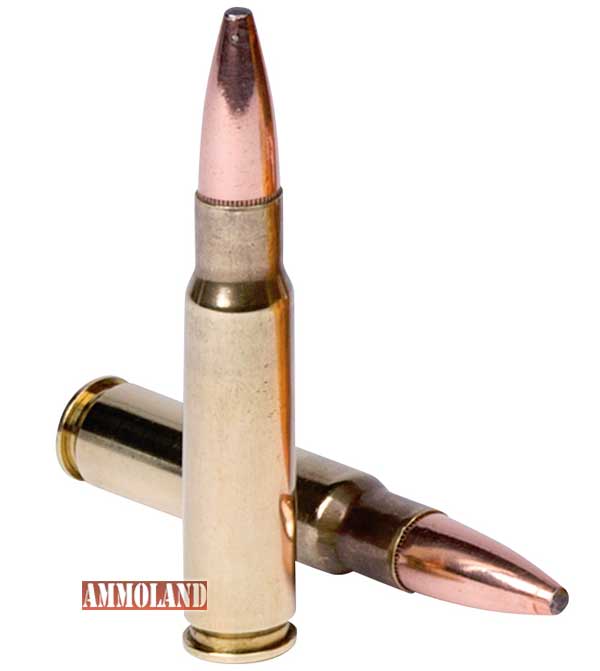 USA – -(Ammoland.com)- After scoring high marks from critics and drawing legions of loyal fans since its debut in 2006, the .338 Federal continues to gain widespread favor among big game hunters across the continent.
Legendary gun maker Savage Arms is further fueling this rising tide by chambering six of its most popular rifles to fire the high-performance yet low-recoil cartridge.
None of which surprises Mike Holm, ammunition product line manager for Federal Premium Ammunition, which developed the hard-hitting round in conjunction with Sako.
"The .338 Federal may be the perfect big game cartridge," he said. "It fits in short-action, lightweight rifles and delivers the range and terminal energy to take down any North American big game animal. I have also witnessed it performing perfectly on plains game in Africa."
A Star Is Born
Built on the .308 case and "necked-up" to hold a .338-diameter bullet, the load offers hunters a faster muzzle velocity than traditional favorites like the .308 Win., with a heavier bullet to boot. But the true beauty of the .338 Federal, Holm explained, is that you get near .338 Win. Mag. performance out to 400 yards, without the brutal recoil of magnum rounds.
Ballistics data bears this out. For example, the 200-grain Vital-Shok Trophy Bonded Tip .338 Federal packs a punishing 1,891 foot-pounds of punch at 300 yards, yielding an only slightly lighter sting than the 2,213 foot-pounds delivered by a 210-grain .338 Win. Mag. Nosler Partition.
On the flip side, the .338 Federal produces just 23.9 foot-pounds of recoil, compared to a shoulder-smashing 36.1 for the Win. Mag. Plus, the .338 Federal zips along at 2,064 feet per second at 300 yards, virtually tailgating the magnum cartridge, which clocks a cruising speed of 2,180. And trajectory is nearly a dead heat, with the .338
Federal dropping 9.1 inches at 300 yards, compared to 8 inches for the Win. Mag.
"Short-action rifles are lighter and easier to carry in the field, making that shot on a trophy animal that much better," Holm added.

"There is also a wide selection of .338 caliber bullets to choose from, which only adds to your performance options."
Indeed, the company offers seven .338 Federal products, ranging from 185-grain American Eagle soft-point target loads and Fusion MSRs up to 210-grain Nosler Partitions. Heavy hitters in the family are housed in the Premium brand's Vital-Shok lineup, which includes the Trophy Copper and Trophy Bonded Tip options.
Trophy Copper inflicts devastating downrange damage, thanks to an all-copper bullet that features a tipped cavity for seamless expansion across the velocity spectrum. As a bonus, the bullet's grooved shank engenders accuracy in a variety of firearms, while the copper-alloy design yields up to 99 percent weight retention for the deepest possible penetration in an expanding bullet.
Trophy Bonded Tips, meanwhile, blend stellar weight retention and penetration with impressive ballistics. They also boast a bone-crushing solid copper shank and expansion-boosting exterior skiving.
"Another benefit of the .338 Federal is that it not only works great out of bolt-actions, it makes a fantastic hunting cartridge for modern sporting rifles as well," Holm noted.

"Whether you're hunting deer, elk, moose, bear, caribou, and even African plains game, it offers real advantages. In fact, we liked it so much, we chose the .338 Federal to be the first centerfire cartridge to bear the Federal name."
Savage Embrace
Iconic American gun maker Savage Arms agreed with Holm's assessment, adding the .338 Federal to six of its flagship big game rifle platforms for 2015, including the Model 11 Hog Hunter, Model 11 Long Range Hunter, Model 16 FCSS Weather Warrior, Model 16 Bear Hunter and the Model 11 and Model 16 Trophy Hunter XP.
"As you can see, we've added this caliber to a wide variety of products, from key niche guns to higher-volume, general-purpose models," said Marketing Director Bill Dermody.

"The .338 Federal is a great caliber with a lot of potential that fills somewhat of a hole in our lineup," Dermody added. "It provides great energy with heavier bullets, but without the magnum recoil. While it's a great all-around cartridge, it's a particularly good fit in the Model 16 Bear Hunter and the Model 11 Hog Hunter. I personally can't wait to try it out in the field."
All six feature Savage's ingenious AccuTrigger system, which allows the shooter to dial in the perfect trigger pull to fit their personal preference.
Both the Bear Hunter and Hog Hunter—along with Model 11 Long Range Hunter—are members of Savage's Specialty Series, which is geared for specific applications.
The Hog Hunter features a green synthetic stock, carbon steel barrel with black matte finish, adjustable iron sights, medium-contour, threaded barrel and internal box magazine.
Designed to reach out and touch a variety of big game, the Long Range Hunter features the AccuStock bedding system, which cradles the action three-dimensionally in a rigid shooting platform. It also features a black carbon steel barrel and matching synthetic stock, hinged floorplate magazine and adjustable comb and muzzle brake.
The Bear Hunter also offers AccuStock, along with a synthetic camo stock, stainless barrel, adjustable muzzle brake and hinged floorplate magazine.
Built for the harshest conditions, the Model 16 FCSS Weather Warrior sports a stainless steel action and barrel to banish corrosion, plus a lightweight synthetic stock impervious to moisture.
The Model 11 and Model 16 Trophy Hunter XP belong to the Package Series, which offers tack-driving performance out of the box. Both feature AccuTrigger, factory-mounted and boresighted 3×9 Nikon optics, detachable box magazines and synthetic stocks. The Model 11 has a black matte carbon steel barrel, while the Model 16 sports stainless steel.
A Cartridge on Target
With a proven track record, numerous benefits and a promising arsenal of exciting new firearms accommodating this high-performance cartridge, it's safe to say the .338 Federal is a stronger ally than ever for big game hunters everywhere.