Applied Ballistics Announces Strategic Partnership With Nielsen-Kellerman And Bushnell For The Release Of New Ballistics Computing Kit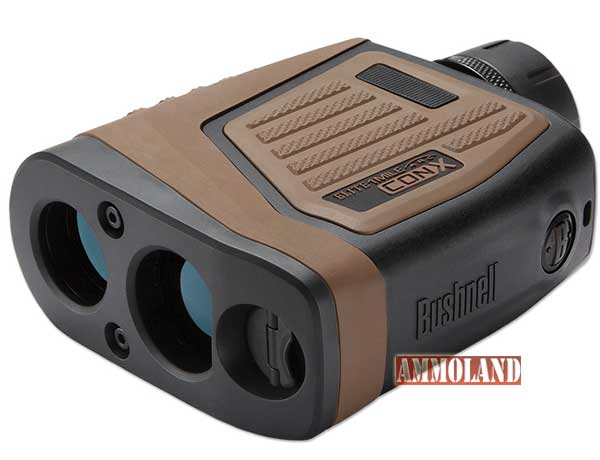 Cedar Springs, MI –-(Ammoland.com)- Applied Ballistics is excited to announce that late this summer, Bushnell will be releasing a kit through their entire distribution channel, which will include a new version of the Kestrel Sportsman Ballistics Weather Meter with their new Bushnell Elite 1 Mile CONX Laser Rangefinder.
The two products will work seamlessly together; each target range data set will be transmitted to the paired Kestrel for calculation of an updated firing solution (using the full capabilities of the Kestrel Sportsman). The firing solution will then be displayed on the Kestrel screen as well as inside the rangefinder.
For maximum smart device compatibility, range, battery life and reliability of connection, both the Kestrel Sportsman and the Bushnell Elite 1 Mile CONX will employ Bluetooth Smart hardware (also known as Bluetooth Low Energy) for connectivity.
Made possible through Applied Ballistics' existing partnership with Nielsen-Kellerman (NK), creators and manufacturers of Kestrel Weather & Environmental Meters, and a new-founded partnership with Bushnell, an industry leader in high performance sports optics and outdoor accessories; Applied Ballistics marks this as their 15th integration effort into a multitude of platforms and SKU's.
"Long range shooting is fun.  It's even more fun when you hit what you're shooting at," stated Applied Ballistics' President, Bryan Litz. "This partnership with Nielsen-Kellerman and Bushnell was developed to provide our customers with a solution to their ballistics computing. In today's world of marketing hype and movie magic, we continue to explore long range shooting using the scientific method; and our long-standing relationship with Nielsen-Kellerman, and now Bushnell, allows us to put that method into the hands of our customers in an easy-to-use kit."

"This is Applied Ballistics' 15th integration effort that we have done into different platforms and SKU's, we've sold over 20,000 copies of the ballistics software on platforms, and the database of bullets is now up over 400 and continues to grow; proving to our loyal customers that we understand the growing need for information and data – and we're constantly working to keep up with that demand."
 About Applied Ballistics
Applied Ballistics was founded in 2009 by Bryan Litz; with the mission to be the complete and unbiased source of external ballistics information for long-range shooters.  We believe in the scientific method and promote mastery thru understanding of the fundamentals. Our work is passed on to the shooting community in the form of instructional materials, which are easy to understand, and products such as ballistic software, which runs on many platforms
The Professional activities supported by Applied Ballistics are broad. From ballistic software integration to training seminars, Applied Ballistics has the depth to support the needs of todays' military and law enforcement professionals with state of the art information and kit. Applied Ballistics partner Accuracy 1st is run by the US's leading sniper instructor Todd Hodnett. Principal Engineer Nick Vitalbo leads the engineering team in the development of cutting edge products designed to help professional shooters accomplish their mission by leveraging the science of accuracy. http://appliedballisticsllc.com/