Arizona –-(Ammoland.com)- Gun writer, Norman Grey answers the question what are the best AR-15 Pistol Grips for today's black rifle?  It is surmised that the first use of a pistol grip was on the Lesoinne Et Pirlot Fils, Liege, a rifled .69 caliber percussion fired single-shot carbine made circa 1840.
It seems the designer felt that adding a piece of shaped wood facing downward and slightly rearward just behind the trigger gave the shooter more control when firing the rifle, and so the idea for the pistol grip was born.
Like most ideas it didn't catch on for a long time, old habits die hard I'm deducing.
As time moved forward the idea was revisited and eventually caught on around World War One in some designs like machine guns. Even then firearms manufacturers produced rifles with straight stocks but were it because of ignorance to the facts or just stubborn to change.
Well this fact alone could be an article all to itself, nevertheless today the AR-15 Pistol Grip is hard reality and an AR-15 wouldn't be one without it.
Now you may be one of those old fashioned, died in the wool traditionalist when it comes to modern new-fangled things, but there is no denying that a pistol grip gives you great control over your firearm during rapid and automatic firing. So much so that many AR-15 shooters, including the United States Military have pistol grips attached to their foregrip for even greater control. I was introduced to the use of a pistol grips upon entering the U.S. Army on the M-16A2 and I have never looked back.
In fact now, if the rifle I'm shooting doesn't have one, I feel I'm missing something. But more importantly, what do I do with my thumb when shooting the classics so it doesn't hit my nose?
As with everything else AR, the choices are vast and you may or may not know what you really want until you see it.
I guess it would be a simple choice if there was only one to choose from, but throw in storage compartments, different grip materials, colors, and price, it becomes a bit more complicated. Research is the key and with anything that offers choice, first you must know what the need is and what will fill that need. Recreation, competition, combat and the coming zombie apocalypse will all have a direct bearing on your choices. Now if you have those answers the next logical thing to do is shop, yes guys do it too, we just buy manly things like pistol grips for our AR's. So here is my top five list of pistol grips I have used, or would use on my AR-15 rifle in no particular order and keep in mind that this is not the be all, end all of lists.
There are a multitude of manufacturers of AR pistol grips, who all want your money and have great products to choose from.
My pick of the Best AR-15 Pistol Grip
DPMS – Black A2 Pistol AR-15 Pistol Grips
Hogue – AR-15 Pistol Grips
Magpul – AR-15/M16 MOE+ Grip
MAGPUL – AR-15 MIAD GEN 1.1 GRIP KIT
Tacstar – AR-15/M16 Tactical Grip Set
---
The most common type of pistol grip found on many AR's is the A2 style that is shipped with most newer AR-15 rifles. It is a good choice if you have an older rifle and want a simple and cheap upgrade. DPMS – Black A2 Pistol Grip offers checkering for an effective hold for your shooting fingers and the finger protrusion fits comfortably between your pointer and ring finger for a secure hold. At a stupid cheap $4.99 each, you can buy a bunch. Installation is very simple, remove the old pistol grip and replace it with the new one and here the tricky part, replace the screw and tighten.
I have these types of AR-15 Pistol Grips on my classic 20" Colt AR-15A2 HBAR and have no desire to change them, if it's not broke.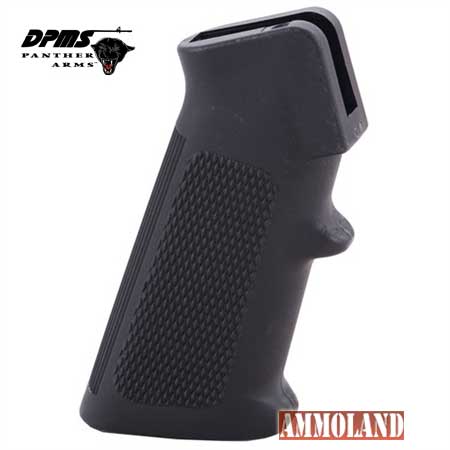 A great upgrade from your A2 style pistol grip is the HOGUE – AR-15 PISTOL GRIPS. I have used Hogue extensively on handguns and rifles and it is a simple fix to a simple problem. Hogue employs a fiberglass insert wrapped with their tacky rubber material for a very secure hold. Add in the finger grooves and palm swells and you have an effective grip for any AR platform. It is just as simple to replace as the A2 style pistol grip and comes in desert tan and most importantly, won't break your wallet.
The only issue I have found is because the grip material is tacky it snags clothing that it rubs against, did I say it was tacky?
Today's rifles are a tough breed, but mechanical things eventually break, such as firing pins, small springs and parts. What makes life on the front line a little better is the MAGPUL – AR-15/M16 MOE+ GRIP with its built in storage compartment for all those small parts. Of course being Magpul, it does not lack the creature comforts that are integrated into some of their other grips like hard-molded high impact polymer construction. It also features a stipple texture on both sides as well as a deep cut grooves on the front and back straps and beavertail for comfortable prolonged firing. The plus is the added anti-slip over molded rubber coating that helps keep your hand on the pistol grip in less than desirable conditions.
Now for the added bonus, the trap door at the bottom of these AR-15 Pistol Grips hold all those small items you need for a quick fix in the field and it accepts Magpul's MIAD Grip Cores  which are designed for storing specific items and best of all you can color coordinate your rifle with Black, O.D. Green, Flat Dark Earth and Gray and it leaves your finances in the plus range.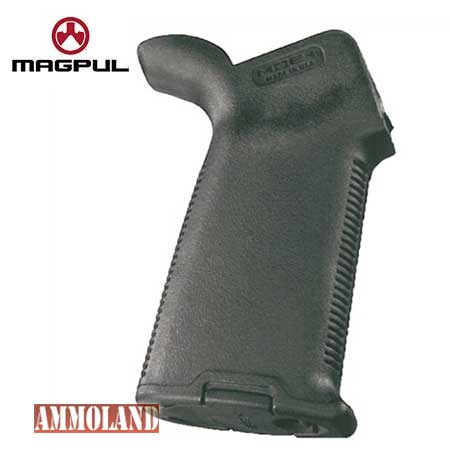 MAGPUL – AR-15 MIAD GEN 1.1 GRIP KIT
I have always been a versatility man and the MAGPUL – AR-15/M16 MIAD GEN 1.1 GRIP KIT follows this creed to the letter. The military instills in you the ability to adapt to your missions and equipment that follows this rule is essential. MIAD or Mission Adaptable starts with a choice of four colors, Black, Flat Dark Earth, Gray and Foliage, then lets you adjust it to your hand size and mission by letting you pick the 3 types of MIAD Grip Cores you need for added gear. These MIAD Grip Cores either hold 2 CR-123 batteries, 2 AA/AAA batteries with reversible, "SPENT" cover or AR-15/M-16 Bolt and Firing pin. They also include three different beaver tails and two interchangeable front straps to finish it off.
All this flexibility costs a bit more, but you will find it is well worth it when you have the items you need in the grip of your hand, so to speak.
Sometimes a good thing comes in a set and if you're a person who like your forgrip to match your pistol grip the TACSTAR – AR-15/M16 TACTICAL GRIPS is one stop shopping.
I have used TACSTAR before and still employ their sidesaddle on my HK/Benelli M-1 Super 90 as well as their magazine extension on an 870 shotgun and they have stood the test of time and use.
These AR-15 Pistol Grips is made of high impact polymer with finger grooves and a palm swell and covered in Packmayr's decelerator rubber for a secure comfortable grip and finishes it off with a beavertail to make prolonged fire or holding the rifle comfortable. The forgrip clamps to any forend with a Picatinny rail and the push of a button will move it from stowed to vertical and then forward. Together they allow the shooter to have both hands actively holding the front and rear pistol grips for fast follow-up shots or to maintain control in full auto fire. You can purchase each piece separately if you wish and they are reasonable priced for the pair.
About Norman Gray:
Norman Gray has been involved in the shooting sports for well over 30 years. He has served in both active duty and reserve component of the United States Army as an Infantryman and was honorably discharged at the end of his service. Moving to Arizona, he began assisting his long time friend and mentor Bob Shell, an accomplished writer and author in his own right. Norman is freelance contributor with Handguns Magazine, Canadian Firearms Journal and Manzano Valley Outdoors. He is also a member of (POMA) The Professional Outdoor Media Association, the (NSSF) National Shooting Sports Foundation and a Life Member of the (NRA) National Rifle Association. Visit: https://www.unleaded-ink.blogspot.com/