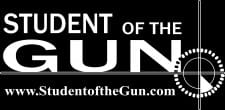 Biloxi, Mississippi (Ammoland) Student of the Gun, your #1 source for firearms education, enlightenment, and enjoyment is now offering "Best of SOTG: Brownell's Bench Talk" a direct download DVD. Professor Paul will lead you through numerous topics, including:
Building Your Own AR-15
Rifle Furniture
Black Rifle Accessories
Black Rifle Maintenance
AK Muzzle Brakes
Lock and Lube
Bonus SHOT Show Footage with Pete Brownell and the Brownell's Team!
This segment has been a viewer favorite on Student of the Gun Television and now "Brownell's Bench Talk" is available to you all on a single downloadable DVD. This is packed with tons of information and you can own it all today.
Being a Student of the Gun is not about being a novice or beginner.  Student of the Gun represents a life's journey of education, enlightenment and the enjoyment of firearms. Each episode will introduce the viewer to new and interesting firearms as well as the latest gear to go along with them.
Student of the Gun TV is available for viewing on demand for free on their very own channel via ROKU TV .  More On Demand networks will be coming online in 2015, to include Amazon Fire, ChromeCast, Apple TV and XBox Video. To keep up to date on all that Student of the Gun has to offer, subscribe for free to the newsletter (click here).