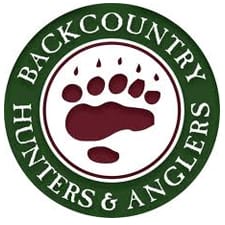 Colorado – -(Ammoland.com)- Colorado Backcountry Hunters & Anglers recently promoted two in their ranks, Bob Shettel and Dan Parkinson, to positions that will help the Colorado BHA chapter continue building on its decade-long track record of protecting our wild public lands, waters and wildlife for future generations of hunters, anglers and other outdoorsmen and women.
White River National Forest Habitat Watchman, Bob Shettel, has joined the chapter leadership team as Colorado BHA's first Colorado Parks & Wildlife (CPW) Liaison. As CPW Liaison, Bob will ensure we're up-to-speed on the myriad of issues impacting CPW, and vice versa, and will serve as the chapter's contact for most CPW-related issues. Bob also serves on the Colorado Wildlife Council-West Slope Angler Representative.
As an avid outdoorsman, experienced teacher and passionate backcountry enthusiast, Shettel brings a unique perspective to Colorado BHA. He's a retired schoolteacher originally from western Pennsylvania who started fishing at 5 and deer hunting in his teens. Bob moved to Colorado in 1975, learned fly-fishing and has been an avid user of the local gold medal waters around the Roaring Fork Valley ever since.
Bob also holds four International Game Fish Association line class world records for California golden trout dating back to the 1980's. He spends at least a week each year stomping around the Wind River Mountains in Wyoming in search of still bigger golden trout.
"I'm retired, I hunt big game, I fish as often as possible (meaning: never enough) and fish not only streams, but high mountain lakes," he says.
Dan Parkinson became Colorado BHA's first Southwest Regional Director during late 2014. Dan was born and raised in Denver and some of his fondest early memories are of family camping and fishing trips in the mountains of Colorado and the West.
"Mom and Dad planted the seed of appreciation for wild places and wild things in me and it is a gift that I hope to share with others," Dan says.
Dan started hunting seriously after a college buddy got him hooked on archery elk hunting, which has been his passion for more than thirty years.
Dan says, "Traditional bow hunting for elk is the perfect combination of wild backcountry challenge, adventure and an opportunity to put delicious, healthy food on the table."
Dan's angling preferences have changed from bait fishing for "anything that you could eat" as a kid to mostly small stream fly fishing for wild trout.
Dan and his wife Laurie moved to Durango in 1982, where they raised two children and built a family cabin on the nearby Pine River. Dan worked for years as a small-animal house-call veterinarian serving a large area of southwest Colorado. Later, he was owner and managing veterinarian of Riverview Animal Hospital in Durango. Today, Dan and Laurie live on the Pine River near Vallecito where Dan hunts elk, deer, turkey and occasionally grouse, ducks and geese and big trout (with a fly rod!). Dan also recently completed two years of service as a Southwest Colorado representative on CPW's Sportsmen's Roundtable.
"We're honored and lucky to have such dedicated backcountry conservationists join the Colorado BHA chapter leadership ranks," said Colorado BHA Chairman, David Lien. "As a grassroots organization working to conserve our wild public lands, waters and wildlife, we depend on the hard work and dedication of boots-on-the-ground volunteers like Bob and Dan."
Formed around an Oregon campfire in 2004, BHA was created to be the sportsmen's voice for the nation's wild public lands, waters and wildlife. With members in all 50 states and Canada, 16 state-based chapters and a chapter in British Columbia, and more than 70,000 Facebook users, the group brings an authentic, informed, boots-on-the-ground voice to the conservation of public lands.
Backcountry Hunters & Anglers is the sportsmen's voice for our wild public lands, waters and wildlife