Files Voluntary Chapter 11 to Implement 363 Sale to Newly Created Entity Funded By Sponsor  Colt Expected To Emerge with Stronger Balance Sheet within 60-90 Days. Company Has Obtained $20 Million in Incremental Financing to Fund Operations. Colt to Continue Business Operations with No Impact on Customers, Vendors, Suppliers and Employees.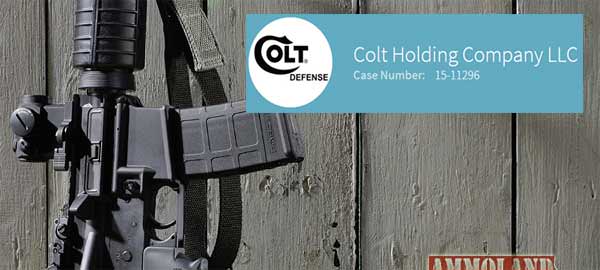 WEST HARTFORD, Conn.- -(Ammoland.com)- Colt Defense LLC ("Colt" and the "Company") announced today in voluntary Chapter 11 materials filed in the United States Bankruptcy Court for the District of Delaware (the "Bankruptcy Court") a process that will allow for an accelerated sale of Colt's business operations in the US and Canada.
Colt's current sponsor, Sciens Capital Management LLC ("Sciens"), has agreed to act as a "stalking horse bidder" and has proposed to purchase substantially all of Colt's assets and assume secured liabilities and all liabilities related to existing agreements with employees, customers, vendors, and trade creditors.
Colt intends for the sale to ensure a smooth and swift transition of the business with all of its iconic brands, products, and operations supported by a stronger balance sheet due to a significantly lower debt burden.
As part of the Sciens led bid, Colt will be able to reassure its employees and local community of its commitment to continued operations in West Hartford through a long term extension on the lease for its manufacturing facilities and campus in West Hartford. In accordance with the sale process under section 363 of the Bankruptcy Code, notice of the pending sale to Sciens will be given to third parties and competing bids will be solicited, with an independent committee of Colt's board of managers established to manage the bidding process and evaluate bids.
The Company intends to continue its normal business operations throughout the accelerated sale process and has asked the Bankruptcy Court to approve certain Company requests to protect trade creditors, vendors, and suppliers, thereby allowing for its operations to continue uninterrupted during the Bankruptcy Court supervised sale process. Union-related agreements will also be unaffected and employees will be paid all wages, salaries and benefits on a timely basis.
The current management team, which has been led since October 2013 by President and CEO Dennis Veilleux, will remain in place throughout the process.
"The plan we are announcing and have filed today will allow Colt to restructure its balance sheet while meeting all of its obligations to customers, vendors, suppliers and employees and providing for maximum continuity in the Company's current and future business operations," said Keith Maib, Chief Restructuring Officer of Colt Defense LLC.

"While entering Chapter 11 protection in the absence of a consensual agreement with our noteholders was not our preference and we do not take it lightly, we are confident it is the best path going forward and will enable us to continue to gain traction on a challenging but achievable turnaround in our business performance and competitive positioning in the international, U.S. government and consumer marketplaces. Importantly, Colt remains open for business and our team will continue to be sharply focused on delivering for our customers and being a good commercial partner to our vendors and suppliers. We look forward to successfully executing on this plan, which provides a sound path of stewardship for an iconic American brand and the key stakeholders we serve."
Colt's existing secured lenders have also agreed to provide, subject to approval of the Bankruptcy Court, $20 million in debtor in possession credit facilities to allow for continuation of operations in the ordinary course of business during the Chapter 11 process. The entire process is expected to be complete within 60-90 days.
On June 12, 2015, Colt's previously announced exchange offer, consent solicitation and solicitation of acceptances of a prepackaged plan of reorganization with respect to its 8.75% Senior Notes due 2017 expired. The conditions to the exchange offer, the consent solicitation and the prepackaged plan of reorganization were not satisfied and such conditions were not waived by Colt. All 8.75% Senior Notes due 2017 of Colt tendered and not validly withdrawn pursuant to such exchange offer will be returned promptly to the tendered holder thereof in accordance with the Offer to Exchange, Consent Solicitation Statement, and Disclosure Statement Soliciting Acceptances of a Prepackaged Plan of Reorganization, dated April 14, 2015, as supplemented, and applicable law.
Perella Weinberg Partners L.P. is acting as financial advisor of the Company, Mackinac Partners LLC is acting as restructuring advisor of the Company and O'Melveny & Myers LLP is the Company's legal counsel.
For access to Court documents and other general information about the Chapter 11 cases, please visit: http://www.kccllc.net/coltdefense.
About Colt
Colt is one of the world's leading designers, developers and manufacturers of firearms. The company has supplied civilian, military and law enforcement customers in the United States and throughout the world for more than 175 years. Our subsidiary, Colt Canada Corporation, is the Canadian government's Center of Excellence for small arms and is the Canadian military's sole supplier of the C7 rifle and C8 carbine. Colt operates its manufacturing facilities in West Hartford, Connecticut and Kitchener, Ontario. For more information on Colt and its subsidiaries, please visit www.colt.com.