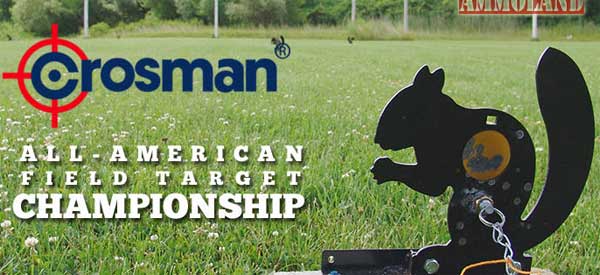 BLOOMFIELD, New York – -(Ammoland.com)- The 2015 edition of the Crosman All-American Field Target Championship (CAAFTC) is set to take place June 12-14 2015 at Rochester Brooks International Skeet and Trap Club and the competition will feature more than 80 shooters in a variety of rifle and pistol divisions.
The event is open and free to the public, making it a great opportunity to watch highly skilled shooters up close as they vie for one of the sport's most coveted titles.
Competitors will have 120 shots over two days to determine winners in divisions and classes that are based on the airgun and support equipment they use.
"Field target is a fantastic event for families or anyone with an interest in shooting", says Mark DeBoard, Manager of Shooting Services for Crosman.

"You'll see guns ranging from popular break barrel models up to rifle and scope combinations costing thousands of dollars."
The weekend will kickoff on Friday, June 12 2015 with registration, sighting-in and the popular Quigley Bucket Challenge. Walk-ins are welcome and must register by 8:00 a.m..The entry free for the two-day rifle competition is $75.00 and includes a free entry to the pistol match. Those interested in trying out the sport and shooting on only one of the two days may register for $50.00. Pistol-only competitors may register for $25.00. All registrations include the free Quigley Bucket Challenge and a Crosman gift bag valued at $90.00.
"The CAAFTC is the largest shoot sanctioned by the American Airgun Field Target Association (AAFTA) outside of their national championship and we'll have several members of Team USA competing in this event," says Chip Hunnicutt, Marketing Manager for Crosman.

"These are airguns so it's NOT a noisy event to attend, making it great for families to come out and enjoy. In fact, our youngest competitor is ten years old and the most senior is 82, so there will be plenty of shooters to cheer for and perhaps inspire onlookers to try the sport," Hunnicutt added.
Rochester Brooks Gun Club is located in Rush, New York at 962 Honey Falls 6 Road. The rifle competition begins at 9:00 a.m. on Saturday and Sunday and the pistol competition will begin at approximately 1:30 p.m. on Saturday.
For additional information on the Crosman All-American Field Target Championship, visit crosman.com or write to Chip Hunnicutt, Marketing Manager, Crosman Corporation, 7629 Routes 5 & 20, Bloomfield, NY 14469, email him at [email protected], follow him on Twitter (@chiphunnicutt) or call him at (800) 7–AIRGUN (724-7486).
For up-to-the-minute news from Crosman Corporation, follow us on Twitter (@crosmancorp).
For over 90 years Crosman has led the world in the design and manufacture of airguns and airgun ammunition, along with airsoft, optics and shooting sports accessories. Headquartered in Bloomfield, N.Y., the company sells its products worldwide under the Crosman®, Benjamin®, CenterPoint®, Game Face® and Undead Apocalypse® brands. For more information about any of these brands or products, please contact Crosman Public Relations at (800) 7-AIRGUN or visit www.crosman.com