By Jason Reid

Rochester NewYork –-(Ammoland.com)- Mix a meteorologist with a mathematician and you get a highly competitive airgun marksman.
June 12-14 2015, just outside of Rochester NewYork, Crosman hosted the All American Field Target Championships. ( CAAFTC )
The beautiful layout of the Rochester Brooks International Skeet and Trap Club hosted 95 rifle and pistol competitive air gun shooters of all ages and skill levels.
From youth shooters no more than 10 years old, to Team USA and Team Canada shooters, and older hobbyists with every kind of air gun you could imagine. All were pushing themselves and their shooting skills with air guns while enjoying the breezy, overcast day, soaking up each other's competitive camaraderie.
Walking through the gravel parking lot, I checked off license plates from more than a handful of states, Chip Hunnicutt, marketing Manager for the Crosman Corporation says some folks have hauled all the way from California to compete.
To give one an idea of why people travel from all over, Hunnicutt told me "The CAAFTC is the largest shoot sanctioned by the American Airgun Field Target Association (AAFTA) outside of their national championship."
The AAFTA included highly skilled shooters from Team USA who are preparing to travel to Lithuania in August to compete in the World Championships.
Observing shooters interacting with each other and having a great time, my curiosity began to get the best of me. I love shooting air guns, most of us started our life long journeys as sportsman with a classic pump BB gun.
How did it evolve into a serious growing niche in terms of the greater shooting sports market place?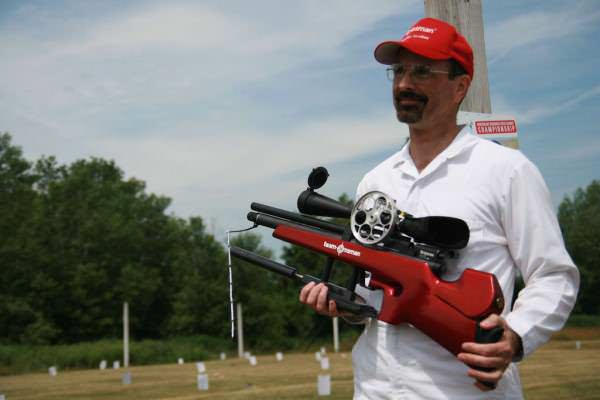 After talking with Ray Appelles, a shooter for Team USA, he said one of the biggest draws for him is the camaraderie.
"When you shoot shotguns and other high powered guns, you do lose some of the interpersonal interaction." Here we are having a great time, talking with each other while not having to worry about the noise. These guns are a great way to teach the young kids and graduate them into proper shooting mechanics and larger guns," he said, pointing to the pair of youngsters trying to shoot a gun far too big for them.

"And the ammo is far cheaper," He said with a bit of a chuckle. "Way cheaper ammo."
Ray is an accomplished marksman in competitive airgun shooting. Last year he finished second in the world in the piston division, while shooting against a shooter from Great Britain. To finish second in the world is not bad considering the targets one must knock over range from 3/8ths of an inch to a spacious 1.5 inches.
Watching Ray, he switched from being the nice guy on the sidelines to a mad scientist feeling for the wind and making his adjustments while sitting behind the scope. Maybe I put too much pressure on the situation as one particular station he missed three out of four. If I miss three out of four targets in my back yard shooting my bow, I get mad. Ray seemed a bit disgusted, but didn't let it bother him, he just said he let the wind get the best of him.
The technical aspect of placing a pellet into a kill zone, ranging between 3/8ths of an inch to 1.5 inches was fascinating. Each shooting station hosted four targets at distances of 15 to 55 yards. From talking with many shooters, one must know how to read the wind and know the impact it will have.. One must know their equipment and the impact the PSI of that gun will have on the down range performance mixed with the wind.
You must be able to shoot from different positions as one's the balance and one's center of gravity can and will impact the trajectory of the pellet.
At this level of competition the impurities are magnified, even at the closest distance.
It was also interesting to learn about the expansion of the airgun sport in the USA. In Europe, air guns are far more popular for hunting and general shooting since guns in general are under much more scrutiny (read banned) for recreational shooting and hunting. The shooting sports industry becoming more and more accepting of the style of shooting because of the deep roots air guns already have in American family culture. Also because of the advances in technology which are making Airguns lethal for big game hunting. It is exciting to see the growth of the airgun culture and niche.
The Championship came down to the final lane on Sunday between Jeff Paddock and Harold Rushton with Paddock keeping his cool, knocking over just one more target than Ruston to win the event. To give you an idea of the skill level of these two shooters, Ruhton knocked over 114 targets in two days, while Paddock recorded 115 targets knocked over.
Out of 120 total shots for the two day tournament and both men missing just five or six total targets, you must respect the talent and the dedication to the craft of those in the competitive airgun shooting arena.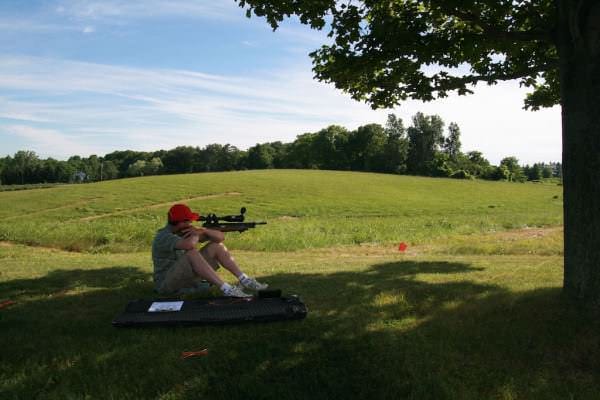 About: Jason Reid is a writer and business professional from upstate New York. After deciding to pursue his dream of becoming an outdoor writer, Jason started a blog from his dorm room at Houghton College, growing it and working hard to earn opportunities. While bowhunting big game is his ultimate passion, Jason welcomes all outdoor challenges which force him to push his limits. Jason's work can be viewed on his website Pushingthewildlimits.com