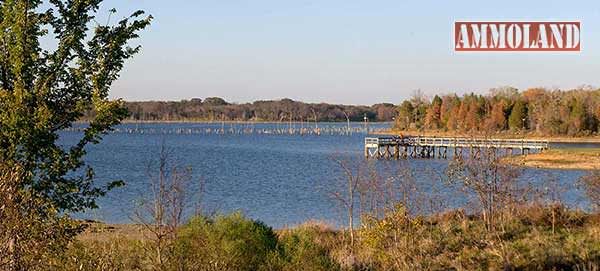 Nebraska -(Ammoland.com)- Family dining against the backdrop of the scenic Platte River is returning to Eugene T. Mahoney State Park (SP).
The Lodge Restaurant, located in the park's Peter Kiewit Lodge will reopen under new management on Monday, June 1.
The new operating vendor is Treat America Food Services, a food service management company based in Merriam, Kan. Treat America operates corporate cafeterias in the Lincoln and Omaha area and a popular restaurant in Kansas City.
The restaurant will be open daily from 7 a.m.-9 p.m. While a buffet will be available daily, diners may order, "local favorites," off the menu Wednesday through Sunday. Buffet food selections will change daily. Chicken fried steak will be featured on Wednesdays, steak on Thursdays, ribs on Fridays, and prime rib on Saturdays. Brunch also will be served Sundays from 7 a.m.-2 p.m. and special holiday meals will be scheduled. Chef Manager Arif Wright of Seward said all food items served at the restaurant will be fresh and made from scratch in the kitchen.
The restaurant's bar is scheduled to open in early July, and it will have a menu, as well.
Treat America North Region District Manager Jack Conley expects the restaurant, with its family atmosphere and menu, will attract diners from the Omaha and Lincoln areas, as well as park visitors. "I hope that when they eat their meal and look out at the scenery they will have one of the better dining experiences they will ever have," Conley said.

Added Wright: "This is the perfect marriage of food, scenery and an excellent facility."

Parks Division Administrator Jim Swenson said that a quality restaurant with good food and service is a critical component of the park operation. "Our guests, whether residing in the park or driving out for a meal, have come to expect a family dining experience when they visit the park. Game and Parks is pleased to partner with Treat America in fulfilling those expectations."
In addition to dining in the restaurant, Treat America will offer catering for park events such as family reunions, weddings and corporate outings. Future plans may include a dinner theater package including a meal at the restaurant and a ticket to the park's theater. Parks Bucks also would be valid for use at the restaurant.
The restaurant will feature Arbor Day Coffee, which is owned by the Arbor Day Foundation and grown with environment-friendly practices in Peru. The beans are grown under the rain forest canopy, saving two square feet of rain forest per cup of coffee.
The Nebraska Game and Parks had operated the restaurant in the lodge since it opened in 1991. Over the years, the cost of running the restaurant became a financial concern. Game and Parks chose privatization of that public service to lessen the financial burden on the agency. Treat America Food Services privately operated the restaurant as an upscale steakhouse from December 2010 to December 2011 before ending its contract with Game and Parks. Jeff and Emily Parker operated the restaurant as Mahoney Grille from February 2012 until early January 2015. Following the closure of the Mahoney Grille, Game and Parks conducted a competitive bid process to select a new vendor, and utilized the winter and spring seasons to make renovations within the kitchen, update some equipment and refurbish the outside deck.
Restaurant hours of operation will change during the offseason. A park entry permit is required of each vehicle entering Mahoney SP.