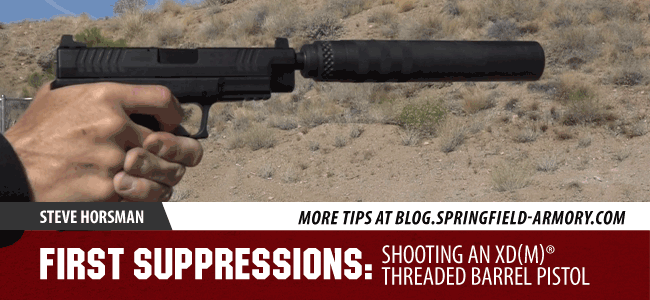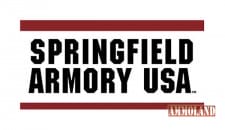 Geneseo, IL – (AmmoLand) The threaded barrel is a game-changer for suppressor fans.
I'm no expert when it comes to suppressors, although I did help select 100 suppressors for the police department patrol rifle program for which I instruct. I also have a few of them for my own rifles.
They are a ton of fun to shoot. And it has to be said – there's something great about being on the range and not having to wear ear protection.
(Read the full article on Springfield-Armory.com)
Gut Reaction
I recently had the opportunity to shoot the new XD(M) 4.5″ threaded barrel pistol in .45 and 9mm. It was only my second time shooting a pistol with a suppressor installed, and my verdict?
Total BLAST. And now I have to add at least one pistol suppressor to my currently modest collection of suppressors.
First thing's first – it's in FDE (Flat Dark Earth), which is always cool. The only difference between the threaded-barrel pistols and previous models is the slightly longer barrel. But that slight change makes a big difference – it provides the threading you need to install a suppressor. And if suppressors aren't your thing, the barrel has a thread protector for when you're shooting suppressor-free. Plus, its taller sights allow you to see your sights even when the suppressor is installed.
Breaking it Down
Performance
While I liked how both the .45 and 9mm felt and shot with the suppressor, I really preferred the .45 – it seemed to tame the recoil a bit and made for a very soft shooting platform. Function was flawless and the muzzle blast was quiet – I tested it out with no ear protection and the sound was not at all irritating.
(You'll definitely never catch me suggesting anyone not wear ear or eye protection while shooting – in this case, it was simply to hear how loud the gunfire would be.)
With the right loads, it's possible to fire without hearing pain or damage. Due to the reduced recoil and diminished muzzle blast, most people actually shoot silenced pistols better than their unmuffled counterparts.
And thankfully, accuracy wasn't affected at all – not that I performed any formal accuracy testing. But when shooting targets at 15 yards with my buddy Rob heckling me, I couldn't miss – which is not always the case with me!
Installation
It probably goes without saying, but installing the suppressor was very easy. It was as simple as threading it on the muzzle and tightening by hand. I gave it all I had when tightening and didn't have any issues with it loosening while firing.
And unlike rifle suppressors, it did not become too hot to touch after a few rounds. However, after a magazine or two, it got a bit hot.  Be sure to use gloves to remove it and watch where you're setting your pistol down to avoid possibly damaging the surface.
At one time, the trickest and most expensive thing you could do to your combat / competition pistol was installing an extended barrel. With the new XD(M)® model, it's built in for added velocity and increased accuracy.
Buying
Sales and popularity of suppressors are growing rapidly. New models that are more affordable than before are showing up on the market all the time. And, while it used to be a bothersome and expensive process to acquire a suppressor, it really isn't that bad anymore. States that allow their sale and ownership have seen huge increases in legal, civilian transfers of suppressors.
When shopping for a pistol suppressor, it's a good idea to make sure you choose one with a built-in recoil booster. Most will have one, but it's wise to ask before buying.
Verdict
When I was first introduced to suppressors years ago, I remember asking myself, "Why?" But having experienced them on rifles and now pistols, I'm more in the "Why not?" camp. They take the loud, explosive-like report of the firearm to a more enjoyable noise level, are a ton of fun to shoot and can be used on different, caliber-compatible guns.
Between the longer barrel and taller sights, the XD(M) Threaded Barrel pistols perform on par with all the guns in the XD(M) line. You get the same great accuracy, reliability and durability you'd have with any XD(M) model.
So what's not to like?
More From Springfield Armory
Shooting Stance – 7 Key Components Of The Upper Triangle
6 Tips To Getting A Better Grip On Your Gun