Florida Carry files lawsuit against Tampa for violations of members' rights and Florida law. Tampa went too far.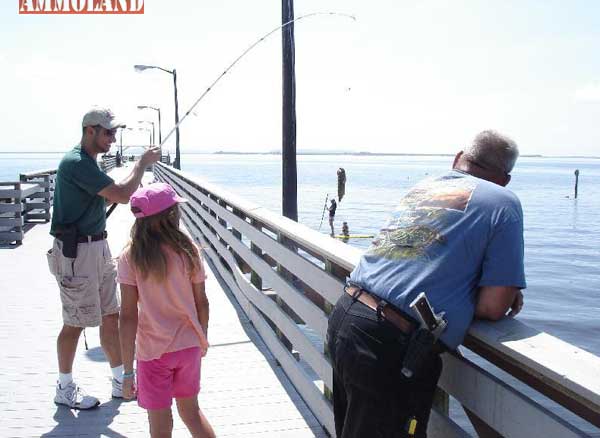 Florida – -(Ammoland.com)- Our member, George Freeman was NOT breaking any law but he was detained for over an hour, disarmed, searched, and ultimately banned from a Tampa city pier and all city parks for exercising his Second Amendment Right to Bear Arms.
The fact that a person is peacefully exercising their right to bear arms is not cause for police officers to attack, detain, search, and trespass a citizen who is a law-abiding gun owner.
To insure that this does not happen again, our lawyers are coming fishing with us at the next regularly scheduled Florida Carry Fishing Meetup, on Saturday, July 11th 2015 – 10am Ballast Point Pier in Tampa. Information and directions can be found by clicking HERE.
We have also filed a lawsuit to defend the right to bear arms, our members, and your rights. You can read about the case by clicking HERE.
We are raising funds to support the lawsuit. please read more and consider contributing to your fellow gun owner's case at: https://www.gofundme.com/DefendingRKBA
We often have to go to the courts to demand our rights.
You can keep up to date on our court cases at: https://www.floridacarry.org/litigation
About:
Florida Carry is a non-profit, non-partisan, grassroots organization dedicated to advancing the fundamental civil right of all Floridians to keep and bear arms for self defense as guaranteed by the Second Amendment to the United States Constitution and Article I Section 8 of the Florida Constitution. Florida Carry, Inc. was organized by a group of Florida gun rights activists in order to better coordinate activities, effectively lobby the state legislature, and to provide a legal entity capable of filing suit to demand compliance with state and federal law. Florida Carry stands only to represent our members and the over 6 million gun owners of Florida. We are not beholden to any national organization's agenda that may compromise that mission.
Florida Carry works tirelessly toward repealing and striking down ill-conceived gun control laws that have been proven to provide safe havens to criminals and be deadly to law abiding citizens.
Florida Carry
www.FloridaCarry.org
Phone: 850-270-7486
Fax: 678-359-9816