This event is 2A FlashMob Approved, anyone attending will automatically qualify for their own FREE 2A Mob Patch.
Illinois –-(Ammoland.com)- Evangelical gun controller Fr. Pfleger is set to deliver another hate-filled attack on you and your Constitutional rights – this time in the southwestern suburbs.
Fresh off his most recent attempt to shut down Chuck's Gun Shop, Pfleger will be seeking to recruit suburbanites in his campaign to obliterate the 2nd Amendment.
ARE YOU GOING TO SIT IDLY BY AND LET PFLEGER HAVE IT HIS WAY?
Pfleger's message of hatred against good American citizens is quickly positioning him as the Anjem Choudary of the gun control movement. In past protests at Chuck's, Pfleger has called for gun shop owners to be dragged into the streets like dogs to be "snuffed." Pfleger's insane diatribes have exhorted his followers to "snuff" duly-elected members of our legislatures as punishment for support of the 2nd Amendment.
In his most recent appearance outside Chuck's, a frenzied Pfleger glared with wild-eyed fury into the TV cameras to declare that law-abiding gun owners would "pay for" the so-called "murders" that take place in his crime-ridden parish.
Let there be no doubt by what Pfleger means by "pay for."
HERE IS WHAT YOU NEED TO DO TO PROTECT YOUR FAMILY AND YOUR RIGHTS
1. Plan to be at St. George Church, 6707 West 175th Street, Tinley Park on June 11th 2015. You should plan to be there by 6:30 PM so that you get a good seat.
2. Be sure to wear IGOLD, ISRA, or NRA shirts or hats to show your support for the 2nd Amendment.
3. Please pass this alert on to your friends and family and tell them to be at St. George Church on June 11th at 6:30 PM.
4. Please post this alert to any and all Internet blogs, bulletin boards, or social media sites to which you belong.
REMEMBER – GUN CONTROL IS A DISEASE AND YOU'RE THE CURE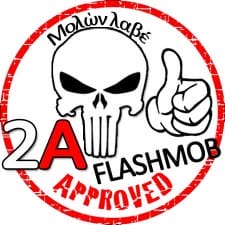 About:
The ISRA is the state's leading advocate of safe, lawful and responsible firearms ownership. Since 1903, the ISRA has represented the interests of over 1.5 million law-abiding Illinois firearm owners Visit: www.isra.org
About 2A Flashmob: 
In an effort to motivate gun owners and Second Amendment Supporters to show up in person at important events and rallies AmmoLand Shooting Sports News is giving away FREE 2A Flashmob Patches to anyone who attends a protest, rally, open carry event, committee hearing at your state capital or a Moveon.org counter protest. (You may already be eligible)
Spread the word, get out, get active!