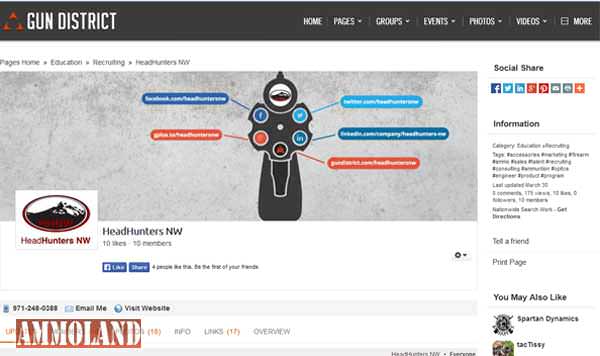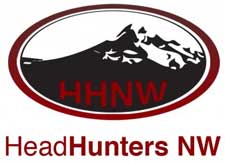 McMinnville, OR –-(Ammoland.com)- In keeping with their Passionate, Knowledgeable & Persistent method for success HeadHunters NW recently became the first executive recruitment firm to publish its page on Gun District, a new social media community established for the firearms and outdoor community.
In an interview with Paul Glasco, President of Legally Armed America and Gun District he shared his excitement in welcoming HeadHunters NW to the Gun District community.
"We're proud to be associated with a recruiting firm that bases its success and its future on the same industry we support and foster. HeadHunters NW sets itself apart by staffing the firearms and outdoor industry with people that are passionate and experienced in the shooting sports and outdoor lifestyle, just like us."

Shaylene Keiner, President of HeadHunters NW stated, "We are very passionate and involved in the firearms and outdoor industries and are thrilled to have seen Gun District grow by leaps and bounds in just a few short months. This platform has become a powerful outlet for professionals in the industry, their families, and communities. We are committed to the success of these people and are here to offer tips, insights, and resources for professional growth in this industry."

"Gun District also allows HeadHunters NW to keep up to date with all of the latest in the firearms industry, allowing us to better serve our client companies with talent. HeadHunters NW is investing in the future with new ways of reaching the top talent and we are excited for the continued growth of this platform!"
More information on HeadHunters NW is available at www.headhuntersnw.com or by phone at 971-248-0388. For the most up to date news, tips & industry insights, follow us on Gun District and our other social media accounts.
About HeadHunters NW

Now in its 11th year, HeadHunters NW is an executive recruiting firm specializing in the Outdoor Industry. As a proven source of uniquely experienced talent for international, national, regional and local client companies, their recruitments span privately and publicly held companies in manufacturing, distribution, services, CPG and more. HeadHunters NW is experienced in securing A-level talent for the most successful Private Equity, Venture Capital and America's Best Small Companies.