Encourage Conferees to stand by these much-needed provisions!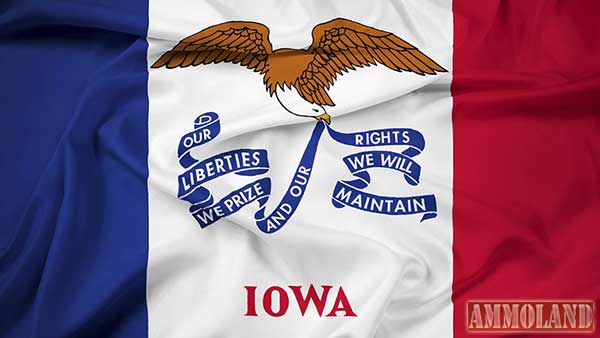 Fairfax, VA -(AmmoLand.com)- The 2015 session is winding down in Des Moines as House and Senate Leadership and Conferees begin to wrap up their final tasks for the year.
However, while session begins to wane, support from NRA members for the many pro-gun provisions debated and passed on several occasions this year remains strong. NRA-ILA continues to work with both the House and Senate to ensure a victory for gun owners and sportsmen this session.
Provisions from the "omnibus firearms bill" of 2015 (detailed here) have survived in many different forms, and at this moment are part of the end of session appropriations package, generally referred to as the "Standings" bill (Senate File 510). Thanks to your strong support and polite messages to your elected representatives, this collection of much-needed fixes and improvements to Iowa's firearms laws is still viable for consideration and passage this session.
The House added pro-gun provisions from Senate File 427 as an amendment to the Standings bill last week (passing these NRA-backed measures for the third time this session), along with several other unrelated policy measures. The Senate did not concur with the changes made by the House to SF510, sending the measure to Conference Committee where a panel of 10 legislators will seek to reconcile differences on the finance and policy measures contained in the bill as passed by the House and the Senate.
Senate File 510 is the last hope that firearm owners and NRA members in Iowa have this year for significant and necessary improvements to Iowa's firearm laws.
Please contact the House and Senate Conferees and encourage them to stand with Iowans and agree upon the pro-gun provisions in SF 510 – and to resist pressure to leave these provisions on the table for next year! 
Many of these improvements are time-sensitive and cannot wait another year! NRA-ILA, our members, and many pro-gun legislators have worked very hard this session to improve firearms rights. The time for action is now.
House Conferees:
Representative Chuck Soderberg

Speaker of the House Kraig Paulsen
House Majority Leader Linda Upmeyer
Representative Kirsten Running-Marquardt
Representative Chris Hall

Senate Conferees:
Senate President Pam Jochum
Senate Majority Leader Mike Gronstal
Senate Minority Leader Bill Dix

About the NRA-ILA
Established in 1975, the Institute for Legislative Action (ILA) is the "lobbying" arm of the National Rifle Association of America. ILA is responsible for preserving the right of all law-abiding individuals in the legislative, political, and legal arenas, to purchase, possess and use firearms for legitimate purposes as guaranteed by the Second Amendment to the U.S. Constitution.
For more information, please visit: www.nra.org. Be sure to follow the NRA on Facebook at NRA on Facebook and Twitter @NRA.