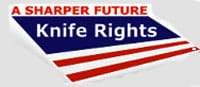 Gilbert, AZ –-(Ammoland.com)- Texas Second Amendment advocate W. Scott Lewis is the recipient of Knife Rights' 2015 Freedom's Point Award, which is given annually to honor an individual citizen who, through leadership in the fight to protect or enhance our knife rights, has demonstrated his or her commitment to a Sharper Future.
The award was presented on June 6 2015 at the Knife Rights Sharper Future Awards Breakfast held in Atlanta during the 34th annual BLADE Show.
Mr. Lewis received the honor for his efforts in helping Knife Rights pass its 2013 Texas Switchblade Ban Repeal bill (HB 1862) and its 2015 Knife Law Preemption bill (HB 905), as well as his considerable contribution to the development of the Knife Rights Foundation's LegalBlade App, which was released in 2014 and is the world's first comprehensive knife law app.
Knife Rights Chairman Doug Ritter said, "Scott's hard work in Austin on behalf of Knife Rights has helped make the difference in Texas and is precisely the example of the high-energy citizen advocate that this award was developed to highlight. Texas knife owners enjoy far more freedom today as a result of his dedicated efforts on their behalf."

Ritter continued, "Scott's detailed research into the nation's knife laws was a major contributor to Knife Rights' successful roll-out of its LegalBlade App; we couldn't have done it without him."

Mr. Lewis said, "I'm grateful to have an ally as motivated and competent as Knife Rights, in the fight to ensure that Texas knife laws are clear and consistent. I'm proud of the work we've done and proud that Knife Rights chose me to receive this honor."
ABOUT KNIFE RIGHTS
Knife Rights (www.KnifeRights.org) is America's grassroots knife owners organization, forging a Sharper Future™ for all Americans. Since 2010 Knife Rights has passed legislation eliminating knife restrictions in 13 states. Knife Rights is also lead plaintiff in a federal civil rights lawsuit against New York City over their persecution of over 60,000 knife owners.