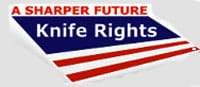 Gilbert, AZ -(AmmoLand.com)- Texas Governor Greg Abbott has signed Knife Rights' signature Knife Law Preemption bill, HB 905, which repeals local knife ordinances more restrictive than state law and ensures that the repeal of the Texas ban on switchblade (automatic) knives that Knife Rights passed last session will now be the law throughout the state.
The new law goes into effect September 1. Texans should note that until the new law is in effect, they can still be charged with violations under existing law.
Knife Rights Chairman Doug Ritter said, "With the governor's signature, millions of Texans will enjoy greater freedom and uniformity in the law. Knife Rights commends Governor Abbott for his continued commitment to freedom in the Lone Star State."
HB 905 prohibits a city or county from passing or enforcing knife laws more restrictive than state law, thereby eliminating the current patchwork of knife laws that have acted as a legal minefield for anyone carrying a knife in the Lone Star State. HB 905 simplifies the law for both travelers and law enforcement, ensuring that a single, easily understood knife law applies statewide.
The two Texas cities that made Knife Rights' 10 Worst Anti-Knife Cities in America list for 2014–San Antonio at number four and Corpus Christi at number nine–will be taken off that list on September 1.
Ritter said, "Removing two of the nation's worst anti-knife cities from our list in a single act is an example of what can be done when we all work together towards greater freedom in America."
Knife Rights honored HB 905 sponsor Representative John Frullo (R-Lubbock) with its 2015 Freedom's Edge™ Award for his efforts in passing HB 905. Texas Knife Rights supporter W. Scott Lewis was honored with Knife Rights' 2015 Freedom's Point™ Award in part for his efforts supporting passage of HB 905.
Ritter explained, "Knife Law Preemption is Knife Rights' most important legislative effort and the foundation for ensuring all citizens enjoy any gains Knife Rights makes repealing knife bans. Strict local knife laws serve only to confuse and entrap law-abiding citizens traveling within a state. Preemption ensures citizens can expect consistent enforcement of knife laws throughout the state"
Knife Rights passed the nation's first Knife Law Preemption bill in Arizona in 2010 and has since passed preemption bills in Alaska, Georgia, Kansas, New Hampshire, Oklahoma, Tennessee, Texas and Utah.
About Knife Rights
Knife Rights is America's grassroots knife owners organization, forging a Sharper Future™ for all Americans. Since 2010 Knife Rights has passed legislation eliminating knife restrictions in 13 states. Knife Rights is also lead plaintiff in a federal civil rights lawsuit against New York City over their persecution of over 60,000 knife owners.
For more information, visit: www.KnifeRights.org.