Plaquemines and Jefferson Parishes.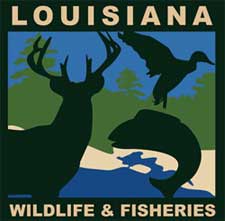 Louisiana –-(Ammoland.com)- After a Louisiana Department of Wildlife and Fisheries Enforcement Division investigation, three men turned themselves into authorities for alleged deer and alligator violations in Plaquemines and Jefferson parishes.
On June 16 Blake A. Mitchell, 29, of Gretna, turned himself in to Jefferson and Plaquemines parish authorities. On June 17 Stephen Black, 19, of Slidell, and Neil Mitchell, 32, of Gretna turned themselves in to Jefferson Parish authorities.
The three men were arrested for failing to tag alligators, taking alligators from an unapproved area, taking alligators without a license, taking or possessing alligators during a closed season, and hunting or taking alligators at night. Blake Mitchell and Black were also cited for failing to comply with deer tagging requirements.
The case stems from an investigation into illegal commercial taking and pursuing of alligators for profit on guided bow fishing trips with Louisiana Bowfishing Inc. from 2013 to 2014. A search warrant was issued for Blake Mitchell's cell phone in May of 2015 after agents received information from U.S. Fish and Wildlife Service (USFWS) agents of the illegal activity.
The phone contained photographs of Black taken by Mitchell with numerous alligators in Jefferson Parish. The photos included date stamps that were out of alligator season and GPS data from unapproved alligator hunting areas.
Through the investigation agents also found Neil Mitchell was involved in the illegal taking of alligators in Jefferson Parish and that Mitchell was conducting the same illegal alligator hunting practice in Plaquemines Parish. Interviews with customers also indicated the three men commonly take alligators illegally to generate more money.
The phone included photographs of deer killed in Plaquemines and Jefferson parishes that were not reported through the LDWF Deer Tagging Program as required by law.
Each count of failing to tag alligator, taking alligators from an unapproved area, taking or possessing alligators during a closed season, hunting/taking alligators at night brings up to a $950 fine and 90 days in jail. Hunting alligators without a license carries up to a $500 fine and 90 days in jail. Not abiding with deer tagging requirements brings up to a $350 fine and 60 days in jail.
Agents participating in the case were Sgt. Adam Young, Senior Agent Joel Cromp and Agent Travis Bartlett along with USFWS Special Agents.
For more information, contact Adam Einck at 225-765-2465 or [email protected]