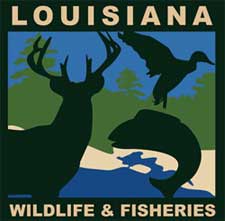 Louisiana -(Ammoland.com)-  To provide the general public alligator harvest opportunities, the Louisiana Department of Wildlife and Fisheries (LDWF) will select eligible alligator hunters through a lottery selection system featuring five Coastal and Nongame Resources (CNR) Division Wildlife Management Areas (WMAs), 15 Wildlife Division WMAs, one U.S. Army Corps of Engineers (USACOE) property and 25 public lakes for the 2015 alligator harvest season.
The CNR Division WMAs include: Atchafalaya Delta WMA, St. Mary Parish; Pass a Loutre WMA, Plaquemines Parish; Pointe aux Chenes WMA, Terrebonne and Lafourche parishes; Salvador/Timken WMAs, St. Charles Parish; and Lake Boeuf WMA, Lafourche Parish.
The Wildlife Division WMAs/USACOE property include: Big Lake WMA, Tensas Parish; Boeuf WMA, Caldwell Parish; Buckhorn WMA, Tensas Parish; Elm Hall WMA, Assumption Parish; Grassy Lake WMA, Avoyelles Parish; Joyce WMA, Tangipahoa Parish; Manchac WMA, St. John the Baptist Parish; Maurepas Swamp WMA, St. John the Baptist, St. James, Ascension, Livingston and Tangipahoa parishes; Sherburne WMA (state portion only), Pointe Coupee and St. Martin parishes; Spring Bayou WMA, Avoyelles Parish; Pearl River WMA, St. Tammany Parish; Richard K. Yancey WMA, Concordia Parish; Dewey  W. Wills WMA, LaSalle and Catahoula parishes; and Russell Sage WMA, Ouachita and Morehouse parishes.
The USACOE property includes Indian Bayou Area (USACOE), St. Landry and St. Martin parishes.
The public lakes include: Lake Bistineau, Webster, Bossier and Bienville parishes; Lake Wallace, Caddo Parish; Black/Cypress Lake and Ivan Lake, Bossier Parish; Cross Lake, Caddo Parish; Kepler Lake, Bienville Parish; Bayou Desiard North, Ouachita Parish; Caney Lake, Jackson Parish; Bartholomew Lake, Ouachita and Morehouse parishes; Kincaid Lake, Rapides Parish; Indian Creek, Rapides Parish; Cotile Lake, Rapides Parish; Nantachie Lake, Grant Parish; Saline Lake, Winn Parish; Toledo Bend, Desoto and Sabine parishes; Lake Bruin, Tensas Parish; Lake Concordia, Concordia Parish; Lake St. John, Tensas Parish; Lake St. Joseph, Tensas Parish; Anacoco Lake and Vernon Lake, Vernon Parish; Caddo Lake, Caddo Parish; Black Lake, Natchitoches Parish; Bundicks Lake, Beauregard Parish; and Lake D'Arbonne, Union Parish.
Interested participants may print out an application from LDWF's website at www.wlf.louisiana.gov/hunting/lottery-huntsor request an application by phone for CNR Division WMAs at 337-373-0032 or Wildlife Division WMAs and public lakes at 225-765-2346.
To assist applicants in selecting specific WMAs/public lakes, LDWF has posted the percentage of lottery alligator harvest applicants selected in 2014 by WMA or public lake on its website at www.wlf.louisiana.gov/lottery-alligator-harvest-program.
Applications and non-refundable application fees ($5) must be submitted to the address indicated on corresponding applications and be postmarked by July 5, 2015.  Only one of the three available lottery alligator harvest applications (CNR Division WMA, Wildlife Division WMA or Wildlife Division Public Lakes) may be submitted per applicant.  Additional applications will result in voiding all applications submitted by the applicant.
The lottery alligator harvests will be conducted between Aug. 26 and Oct. 1, 2015.  Exact harvest dates will vary by WMA/public lake and will be specified at the time selected hunters are notified.  Selected hunters may be assigned specific areas to conduct alligator harvest activities on certain WMAs/public lakes.
Applicants must be a legal Louisiana resident and 16 years of age or older.  All successful applicants will be required to purchase an alligator hunting license ($25).  Successful applicants for WMAs will be required to submit payments ($40) for each alligator tag allocated.
All applicants meeting the application requirements will be entered into a randomized computer drawing, which will take place by August 2015.  Selected hunters will be notified by mail.
For more information concerning CNR Division WMAs, contact Jeb Linscombe at 337-373-0032 or[email protected]  For more information concerning Wildlife Division WMAs or public lakes, contact Steve Smith at225-765-2346 or [email protected].