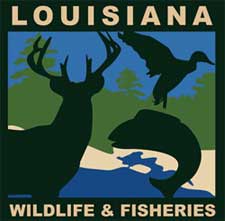 Louisiana -(Ammoland.com)- The Louisiana Department of Wildlife and Fisheries (LDWF) announced today the rules and timeframe for the 2016 Louisiana Waterfowl Conservation Stamp, or Louisiana Duck Stamp competition.
"Gadwall will be the featured species in this year's competition," said Larry Reynolds, LDWF Waterfowl Study Leader.
Gadwalls, or "gray ducks" as they are often called, are the most abundant duck in Louisiana's coastal marshes during fall and winter.  Louisiana hunters generally harvest more gadwalls than any other species during the regular waterfowl season.
"With high populations of gadwalls and fewer mallards migrating into Louisiana than 20 years ago, 'grays' have become the favorite of coastal duck hunters, but are quite common in hunter's bags across the state," Reynolds said.  "No species has been more important for Louisiana duck hunters than gadwalls."
After five years of open contests, where artist could submit paintings of a species of their choice except for previous winners, the list of not allowed species had grown large enough to complicate the rules.  So the 2015 contest was restricted to blue-winged teal, and Guy Crittenden's outstanding depiction of a pair of bluewings in flight continued a long tradition of excellent stamp designs.  The Louisiana Waterfowl Conservation Stamp bearing that design went on sale June 1.
The 2016 contest will be restricted to designs with gadwall as the focal species.  Artists are also reminded of the requirement for associated habitat.  "The primary objective of this program is to provide revenue to create, enhance, and maintain habitat for waterfowl and associated wetland wildlife," said Reynolds. "So a habitat component is required in each entry and is one of the five judging criteria".
To enter, an artist must submit an original, unpublished work of art, along with a signed and notarized artist's agreement and a $50 entry fee.  Entries should be addressed to:
Louisiana Department of Wildlife and Fisheries
Attn: Louisiana Waterfowl Conservation Stamp Program
2000 Quail Drive
Baton Rouge, LA 70808
Entries will be accepted from Monday, October 12 through Tuesday, October 20, 2015 with the contest to be held in the Louisiana Room at the LDWF Headquarters building starting at 10 a.m. on Wednesday, October 21, 2015.  The public is invited to attend.
Please visit this link to view complete rules and the artist agreement for the 2016 Louisiana Waterfowl Conservation Stamp competition: http://www.wlf.louisiana.gov/hunting/2016-louisiana-duck-stamp-contest.
The Louisiana Legislature authorized the Louisiana Waterfowl Conservation Stamp program in 1988.  The program was created to generate revenues for conservation and enhancement of waterfowl populations and habitats in Louisiana.  During the last 25 years, over $12 million has been generated for wetland conservation with approximately $5 million spent on land acquisition.  In addition, revenues have supported wetland development projects on Wildlife Management Areas and the Louisiana Waterfowl Project, a cooperative endeavor between LDWF, Ducks Unlimited, the USDA Natural Resources Conservation Service, and U.S. Fish and Wildlife Service to provide habitat for waterfowl and other wetland birds on private lands.
Judging for the art competition will be based on the following criteria:
1. Accuracy of form, size, proportion, color and posture.
2. Level and accuracy of detail in all aspects of the waterfowl.
3. Appropriateness, accuracy and detail in depiction of the habitat.
4. Attractiveness and creativity in composition, subject, background and lighting.
5. Suitability for reproduction as stamps and prints.
A panel of judges with experience in waterfowl biology and/or artistic method will select the winning design. The competition is open to all artists 18 years of age and older.  Employees of LDWF and members of their immediate families are ineligible.
For more information, contact Larry Reynolds at 225-765-0456 or [email protected].
The Department of Wildlife and Fisheries is charged with managing and protecting Louisiana's abundant natural resources. For more information, visit us at www.wlf.louisiana.gov on Facebook at www.facebook.com/ldwffb or follow us on Twitter @LDWF.