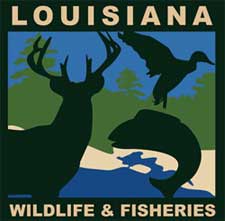 Louisiana  -(Ammoland.com)- Louisiana has some of the most knowledgeable, die-hard, fishing fanatics in the world, who have continually supported the department's programs and management efforts through the purchase of their annual saltwater fishing license.
The License to Win! Sweepstakes is our way of saying thank you to our anglers for their unfettered support.
In partnership with the Louisiana Wildlife and Fisheries Foundation and a host of great sponsors, Louisiana anglers will be rewarded in monthly drawings for YETI ice chests, Shimano gear and gift cards from Whole Foods, Academy Sports and Outdoors and Texaco.
One lucky angler will take home the grand prize, a 22 foot bay boat, trailer and motor donated by Venice Marina, Mercury Outboards and Mike Gerald's Trailer Depot.
Qualification is simple:
Buy a saltwater fishing license
Provide an accurate email address (phone number if email not available)
Respond to our verification email or phone call to validate your contact information
"We are fortunate Louisiana anglers understand and engage in many of the complex issues surrounding fishery management," said Robert Barham, Secretary of LDWF.  "When the department developed our robust and accurate recreational fishing survey system, LA Creel, our anglers stood by our decisions, including a saltwater license fee increase to fund the program. We hope License to Win! shows them how much we appreciate their support."
The success of LA Creel is heavily dependent on the accuracy of our email and telephone database, so in addition to this opportunity to extend our gratitude to Louisiana anglers, we are also able to improve upon the LA Creel program.    We need our anglers to do their part in managing their fishery; we need their valid email address and telephone number.
"Fishery conservation extends beyond our angling public and touches all Louisiana residents, so we hope this promotion will also serve as a motivational tool to entice those outside of the angling community and those who have left the sport to return and support the efforts of our agency by purchasing a saltwater fishing license," said Randy Pausina Assistant Secretary of Fisheries.
Next time you buy your saltwater fishing license, don't forget to provide a valid email address for your License to Win!
For more information on License to Win!, and a full list of our partners visit http://www.fishla.org/license-win-sweepstakes/
Department of Wildlife and Fisheries is charged with managing and protecting Louisiana's abundant natural resources.  For more information, visit us at www.wlf.la.gov, on Facebook at www.facebook.com/ldwffb or follow us on Twitter @LDWF.