The all metal free float 13.5" KeyMod™ rail system allows mounting of tactical accessories while eliminating torque on the barrel.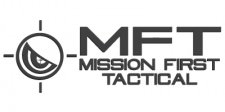 Horsham, Pa. (Ammoland.com) – Mission First Tactical, LLC (MFT™), a leader in USA-made rifle/carbine accessories, is proud to release its latest product, the TEKKO™ Metal AR Free Float 13.5" KeyMod™ Rail System (TMARFF13KRS). This all metal free float 13.5" rail system allows secure mounting for KeyMod™ accessories such as MIL-STD 1913 Picatinny Rails, tactical accessories like vertical grips, bipods, lights, lasers and other rail mounted kits.
"We used the best materials and manufacturing to create this rail system. You won't be able to find a lighter, tougher or better rail anywhere. I'm proud of it," said MFT's Vice President David Edelman.
The free floating nature of the rail allows for less torque on the barrel, making it easier to shoot tighter groups. The rail is made out of Type 3 hard coat anodized aluminum, making it lightweight and able to handle abuse.
The rail was designed to accommodate most suppressors while allowing use of the KeyMod™ mount locations (1.7" internal dimension). It comes with a patent-pending mounting, indexing and lock up system that utilizes a standard barrel nut. It has a monolithic style top rail that eliminates the gap between the receiver and rail. Minor assembly and a low profile gas block (MFT E2LPGB) are required; it utilizes a standard barrel nut. The rail is made in the USA, available in Black and Scorched Dark Earth and features a lifetime warranty.
Features and Functions:
Free floating rail replaces the plastic factory handguard
Secure platform for mounting KeyMod™ Picatinny Rails and accessories
Monolithic style top rail
Allows most suppressor installations
Lightweight 6061 aluminum construction is Type 3 hard coat anodized
Removal of Delta ring and front sight post required
KeyMod™: The New Standard in Modularity
Made in the USA
MSRP $199.99
For more information on Mission First Tactical, visit www.missionfirsttactical.com.
About Mission First Tactical:
Mission First Tactical (MFT) designs and develops select USA Made rifle/carbine accessories specifically for the Military, Law Enforcement and Civilian markets. The MFT team has over 75 years of industry experience in taking concepts to front-line deployment. From the beginning MFT's mission is to develop leading edge products for individual's operating in harm's way. Success for every operator's mission is Mission First Tactical's intent. www.missionfirsttactical.com
Battlelink™ Buttstocks, Engage™ Pistol Grips, React™ Grip Series, Torch™ Laser & Light Mounts, E-Volv™ and MFT Mags™ brands are trademarks of Mission First Tactical, LLC. All company and product names mentioned herein are trademarks or registered trademarks of their respective sources.