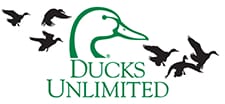 Jackson, MS -(AmmoLand.com)- At its national convention in Milwaukee, Wisconsin, Ducks Unlimited recognized Mississippi as the top fundraising state in the country for 2014.
DU's Top State Awards are based on total income growth, total member growth and the percentage of a state's chapters receiving the President's Citation. DU State Chairman David Victory received the honor on behalf of the more than 1,000 DU volunteers in Mississippi.
"It was such an honor to accept this award on the big stage at the national convention for all of the MSDU volunteers. They received the award because of their passion and concern for the future of waterfowl and our rich hunting heritage here in Mississippi," Victory said. "We started the year with a goal and a plan to make MSDU number one, and everyone bought in and believed we could do it. They went to work making it happen, and in the end they were recognized for being the best volunteers in the country. It has been my pleasure to serve as state chairman, and I would like to say 'Thank you!' to all of the volunteers for all of their hard work and dedication."
To achieve the top position, Mississippi had 20 percent of its chapters on the President's Citation list, increased DU membership by 20 percent and increased total income by 27 percent.
"Volunteers are the heartbeat of Ducks Unlimited, and event fundraising is how they make a difference for conservation," said North & Central Mississippi Regional Director Hunter Pridgen. "Every dollar they raise helps Ducks Unlimited deliver conservation and continue our hunting heritage."

"Our Mississippi DU volunteers understand the need for conservation," said South Mississippi Regional Director Tommy Ware. "Their passion for conservation is a shining example to other Mississippians as well as the rest of the nation."
Since 1937, Ducks Unlimited volunteers have been hosting fundraising events to support waterfowl habitat conservation across North America. To become part of Mississippi Ducks Unlimited by volunteering for your local chapter, contact North and Central Mississippi Regional Director Hunter Pridgen: [email protected] or South Mississippi Regional Director Tommy Ware: [email protected]
About Ducks Unlimited Inc.
Ducks Unlimited Inc. is the world's largest non-profit organization dedicated to conserving North America's continually disappearing waterfowl habitats. Established in 1937, Ducks Unlimited has conserved more than 13 million acres thanks to contributions from more than a million supporters across the continent. Guided by science and dedicated to program efficiency, DU works toward the vision of wetlands sufficient to fill the skies with waterfowl today, tomorrow and forever. Connect with us on our Facebook page at facebook.com/DucksUnlimited, follow our tweets at twitter.com/DucksUnlimited and watch DU videos at youtube.com/DucksUnlimitedInc.
For more information on our work, visit www.ducks.org.