Three Great Events for Freedom Loving Iowans; We're proud to be taking part in all three.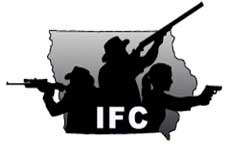 Clive, IA -(AmmoLand.com)- Fellow Iowans – We're still busy fighting in the capitol for the Omnibus Firearms Bill – no significant updates by the way, keep emailing.
But just because we're working doesn't mean you can't get out and enjoy the great weather with some of your fellow IFC supporters and like minded individuals. This weekend we're proud to promote three fantastic events.
Motorcycles, Machine Guns & Mass Permit to Carry – here's a brief run down of where we'll be this weekend. Details on how to RSVP can be found on the website.
Senator Ernst's Roast & Ride
Senator Joni Ernst is throwing her First Annual "Roast & Ride" event in Boone from 11:30am to 5:30pm. This is a fundraising event and the Roast & Ride tickets are $30/each. Senator Ernst is an avid Second Amendment supporter, an IFC ally, and proven advocate in the fight to restore Second Amendment freedoms.
More information at the website.
Central Iowa Machine Gun Shoot
Sureshot Range & Gunsmithing is hosting a Central Iowa Machine Gun Shoot in Mt. Auburn, Iowa. This event is taking place from 9am until dark on both Saturday and Sunday. This is a cash only event with a $10 admission fee for those 14+ years old. Firing NFA registered weapons is an additional $15/magazine.
More information at the website.
Mass Permit to Carry Recertification
The guys over at Cedar Valley Outfitters are putting on a mass Permit to Carry Recertificiation Class this Sunday. As great as that is, they're also going out of their way to donate a portion of every registration to Iowa Firearms Coalition. If your permit expires in 2015 or 2016 this would be a great way to ensure you're good to go for at least another 5 years. Please see the attached flyer attached to this mail for more information.
More information at the website.
About Iowa Firearms Coalition
Iowa Firearms Coalition is an entirely volunteer, grassroots, Second Amendment advocacy group. Responsible for bringing uniformity to Iowa's Concealed Weapons Permitting process, IFC's members work to protect and enhance Second Amendment rights in Iowa. An affiliate of the National Rifle Association, the IFC actively seeks to foster and promote the shooting sports. Sign up for our email list for the latest on Second Amendment issues in Iowa. You can support our work by becoming a member, or making a donation.
For more information, visit: http://iowafc.org.