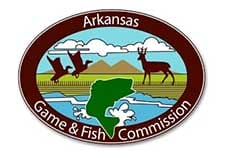 Arkansas  -(Ammoland.com)- Pepper was a special dog, a female black Labrador retriever that won multiple national titles.
She died at age 12, and her name is on a new facility at the Arkansas Game and Fish Commission's Camp Robinson Special Use Area east of Mayflower.
Pepper's Pond will be dedicated at
5:30 p.m.
Friday, May 29, as part of the third Arkansas Retriever Challenge competition on May 29-31.
Pepper's owner is Larry McMurrry of the Pin Oak Hunting Retriever Club which is sponsoring the event, part of the national Super Retriever Series. The club partnered with the Game and Fish Commission in restoring and expanding the retriever training facilities off Arkansas Highway 89. It was heavily damaged by a tornado in 2011.
Pepper won the Grant Hunting Retriever Championship 10 times and also won the national Master Retriever Championship, the only Arkansas dog to hold both titles, McMurrry said.
Pepper's Pond covers five acres of water interspersed with fingers of land, said Matt Mourot, a biologist with AGFC who has been a leader in the project. About 26 acres of land was added to the retriever training facilities that are open to public use except when scheduled events are underway.
The ponds and land give hunting dog owners a place to work their dogs that are used in waterfowl hunts.
The Arkansas Retriever Challenge has competition in two divisions – professional and amateur. Dogs that place in the top three of each division after the three days of competition will quality for the Super Retriever Series Crown Championship.