(AmmoLand.com) With the new World of Targets® Boomslang™ Gong, Birchwood Casey® answers the demand for shooters who want to shoot steel with their centerfire rifles.
The Boomslang Gong has a diameter of 9 ½ inches and is constructed of tough ½-inch AR500 steel with an extremely stable base for hours of shooting enjoyment. The target breaks down and the base folds flat for easy transport to and from the range. With a resounding gong and dynamic movement at each hit, shots on target are easy to hear and see.
The Boomslang Gong is rated for centerfire handguns and rifles up to and including .300 and .338 Magnum calibers. Minimum distances from the shooter to the target are 25 yards for handguns and 100 yards for rifles. High velocity rounds – (3000 + FPS muzzle velocity) and magnum loads should be used at a minimum distance of 200 yards.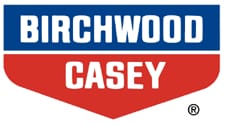 The Birchwood Casey Boomslang Gong is proudly made in the USA and sells for a suggested retail price of $155.60.
Visit the Birchwood Casey website at www.birchwoodcasey.com, write to 7887 Fuller Road, Ste. 100, Eden Prairie, MN 55344 or call 800-746-6862 for more information.