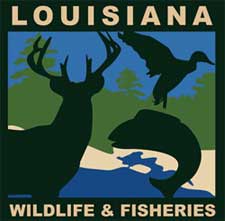 Abbeville, LA -(AmmoLand.com)- The Louisiana Department of Wildlife and Fisheries (LDWF) recently honored volunteer instructors working with the department's Hunter/Aquatic Education Program.
Awards are given annually to recognize some of the most dedicated Hunter Education Volunteers and teaching teams in the state. The awards honor those volunteers whose commitment of time and effort expand LDWF's ability to provide the mandatory hunter education for those wishing to purchase a hunting license in Louisiana.
Those recognized include:
2015 Southeast Regional Team Award – Fred Gueho and Mike Lorio: Gueho and Lorio have been teaching in West Baton Rouge Parish for the past several years. They partner with the West Baton Rouge Sheriff's Office and Sheriff Mike Cazes to conduct several courses a year in Port Allen. They have dedicated 21 years of volunteer service to teach and mentor thousands of students in the Hunter Education Program.
2015 North Regional Team Award – James Franklin, Kyle Luker, Philip Soileau, Justin Blondin, Mark Taylor, Richard Alexander, Leon Taylor and Mike Rainwater: All are with the Lincoln Parish Sheriff's Office (LPSO) and combine to teach 12 to 14 Hunter Safety classes and Field Days per year. The new LPSO training facility hosts Hunter Safety classes and the Sheriff's office is currently constructing an air gun range so students will be able to shoot on-site.
2015 Southwest Regional Team Award – Rufus Jones, Lane Lenton, Keith McClain, Shelby Nation, Randal Pierson, Dana Rachal, Kevin Sweeney and Kevin Sweeney Jr.: For nearly 10 years the Pineville Police Department has put on an annual hunter education class, at which it often hosts over 100 students. Prior to putting on the class every year, the police department solicits local businesses for refreshments and prizes which they give away to students at their class. All team members are Pineville Police officers and each teaches a section of the Hunter Safety course related to their expertise.

(left to right) LDWF Staff Fred Kimmel, Shelby Nation, LDWF Staff Jeff Daughtry and LDWF Staff Wayne Higginbotham

2015 Southwest Region Instructor of the Year – Shane Mayers: As a volunteer hunter education instructor, Mayers was relentless in teaching in Lafayette Parish and the surrounding parishes for the past few years. Despite having terminal cancer, he managed to continue to teach hunter education at the Wilderness Gun Club, and was able to organize courses for the public when asked by local organizations such as the South Saint Landry Community Library. Mayers' knowledge, enthusiasm and experience made him a very valuable asset to the Hunter Education Program and all who knew him. A truly deserving honoree, Mayers passed away in May.
2015 North Region Instructor of the Year – Chris Bennett: Bennett, a LaSalle Parish High School educator, teaches courses in agriculture and shop, and chose to teach Hunter Safety courses as part of the school's course curriculum. He also teaches Hunter Safety courses in LaSalle Parish, additional to his school duties. Bennett's extensive hunter education knowledge allows him to teach the entire course by himself. (Photo not available)
2015 Southeast Region Instructor of the Year – Larry Lapeyrolerie: Lapeyrolerie has been a dedicated volunteer in different facets his entire life and Hunter Safety students have benefited from his skills as lead instructor for the past 11 years. He provides instruction at the Waddill Wildlife Refuge in East Baton Rouge Parish and in the last year has taught 15 courses, certifying over 1,100 participants. (Photo not available)
Annually, nearly 18,000 students are certified in hunter education through courses taught statewide. Volunteers trained to teach hunter education are crucial to the success of this program. The goal of Louisiana's Hunter Education Program is to reduce hunting incidents by producing safe and responsible hunters.
For more information about Louisiana's Hunter Education Program, visit www.wlf.la.gov/hunting/hunter-education or contact Eric Shanks at 225-765-2355 or [email protected]
About Louisiana Department of Wildlife and Fisheries (LDWF)
To manage, conserve, and promote wise utilization of Louisiana's renewable fish and wildlife resources and their supporting habitats through replenishment, protection, enhancement, research, development, and education for the social and economic benefit of current and future generations; to provide opportunities for knowledge of and use and enjoyment of these resources; and to promote a safe and healthy environment for the users of the resources.
For more information, visit: www.wlf.louisiana.gov.