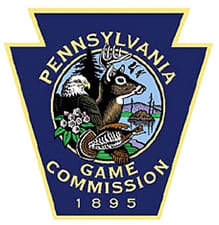 Pennsylvania -(Ammoland.com)- The Pennsylvania Game Commission is giving media members a chance to "go to the dogs."
On Friday, June 26, the Game Commission will showcase its new K-9 unit, a recently formed team of three dogs and three handlers that began its field training last month. This is a media event and is not open to the general public. This news advisory is for your planning purposes only, and is not intended for distribution.
A brief video from the first training session can be seen at the PAGameCommission YouTube page.
The K-9 unit is comprised of Labrador retrievers Storm, handled by Wildlife Conservation Officer Larry Hergenroeder; Gunner, handled by Wildlife Conservation Officer Derek Daly; and Skye, handled by Wildlife Conservation Officer Dave Allen.
The dogs still are puppies, and have just begun to learn the skills they'll be putting to work in the field. But by fall, they'll be ready to assist in investigations that require detection of evidence, searches for illegally taken wildlife or tracking of suspects.
The media event will be held at the Game Commission's K-9 training course at Haldeman Island, north of Harrisburg. Take U.S. Route 322 west, to U.S. Route 15 north, and make a sharp right turn into the driveway about a quarter-mile after the interchange. The driveway is not marked with a street sign, but it's the first road on the right, and there's a large brown sign identifying the tract as Haldeman Island. Game Commission personnel will be on-hand to direct you to the course.
The event will be held from 10:30 a.m. to 12:30 p.m., rain or shine.
Please note the officers and dogs are not based in Harrisburg and the unit is together only for training, so if there is interest in this story, please make plans to attend the media event. We hope to see you there!