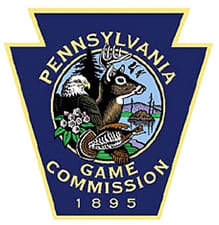 Pennsylvania -(Ammoland.com)- Beginning in late June, we will be banding a sample of resident Canada geese throughout Pennsylvania as part of our management of this species.
The information on goose-population dynamics and movements obtained from subsequent recoveries of banded geese is vital in the evaluation of hunting seasons and maintenance of Canada goose hunting opportunities. Last year, thanks to the efforts of our agency employees and volunteers, 3,000 Canada geese were successfully captured and banded across Pennsylvania. We anticipate a similar effort in 2015.
We will use multiple separate banding crews working simultaneously for most of the banding period; one in western counties, one in the southcentral, and one in eastern counties.
Note that the following goose banding schedule is tentative and is subject to change based upon goose behavior and logistics. For the latest information please contact the respective Region Office listed above.
Northwest Region:
Wednesday June 24: Meet 8 a.m. at Buzzards Swamp, Allegheny National Forest
Buzzard Swamp Road, Marienville, PA 16239, Forest County. Band at sites in Forest, Warren and Venango counties.
Thursday June 25: Meet 7:30 a.m. at Pymatuning Wildlife Management Area Food and Cover headquarters, Swamp Road, Linesville, PA (41.612843,-80.423312), off Route 285, about 8 miles west of Conneaut Lake, Crawford County. Band at sites in Crawford County.
 Friday, June 26: Meet at 8 a.m. at State Game Lands 218 Food and Cover Headquarters, 10500 Hill Road, Waterford, PA 16441 in Erie County. Band at sites in Erie County.
Southwest Region:
 Monday, June 22: Banding in Allegheny and Westmoreland counties. Meet at 8 a.m. at Restland-Lincoln Memorial Park Cemetery, 990 Patton St., Monroeville, PA 15146.
 Tuesday, June 23: (If needed) Meet at 7:30 a.m. at Ramada Inn Ligonier. Band at sites in Westmoreland County.
Northcentral Region:
 Monday, June 29: Meet at 9 a.m. at Dubois Interstate 80, Exit 101 (Route 255 and Interstate 80) 2285 Bee Line Highway, DuBois, PA 15801. Banding will be conducted at sites in Clearfield County.
Tuesday, June 30: TBD in Union or Lycoming counties.
 Wednesday July 1: TBD in Centre County.
 Northeast Region:
 Friday, June 26: Meet at 9 a.m. at Carbon Plaza, on Route 443 near Lehighton, Carbon County.  Carbon Plaza is located about 2.5 miles west of the intersection of Routes 443 and 209, across from Lowes (40.815077, -75.733447).  Banding will be conducted at sites in Carbon and Monroe counties.
Wednesday, July 1: Meet at 8:30 a.m. at Lowes off Route 611 near Bartonsville, Monroe County (41.000841, -75.268257).  Banding will be conducted in Monroe, Wayne, and Pike counties.
Thursday, July 2: Meet at 8 a.m. at the Game Commission's Wayne County Food & Cover headquarters on State Game Lands 159. The game-lands building is located on Route 371 about 2 miles west of Rileyville (41.725097, -75.260218). Banding will be conducted at various sites in northern Wayne County.
Southeast Region:
Tuesday June 23: We will begin banding for the day at the Middle Creek Wildlife Management Area.  Meet at 8 a.m. at the shop on Sunnyside Road, just off Hopeland Road, south of Kleinfeltersville in Lebanon County. After Middle Creek, we will be banding at other locations in Lancaster County
Wednesday June 24: We will begin banding at Nottingham County Park.  Meet at 8:30 at the Park office, 150 Park Road, Nottingham in Chester County. After that we will be banding at several location in southern Chester County.
Because of the recent discovery of highly pathogenic avian influenza in North America, specific biosafety and biosecurity precautions may be required for individuals who will be present at banding locations. Please contact the appropriate Game Commission Region Office for details: Northwest (814-432-3187); Southwest (724-238-9523); Northcentral (570-398-4744); Southcentral (814-643-1831); Northeast (570-675-1143); and Southeast (610-926-3136). For general background information on avian influenza contact Game Commission wildlife veterinarian Justin Brown at 814-863-8370.