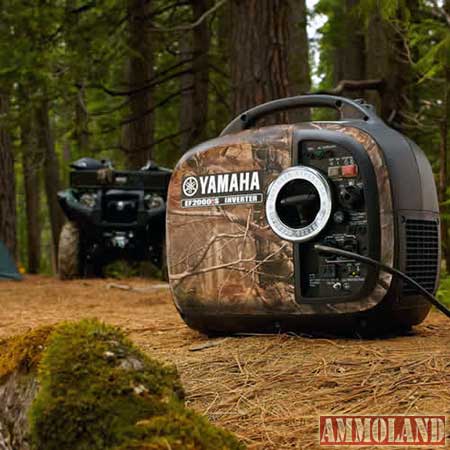 Lincoln, NE -(AmmoLand.com)- Powderhook has reached 50,000 users and in celebration will give away a Yamaha EF2000 Generator and a 5-day Canadian Fishing Trip.
Thanks to the help of many great partners, Powderhook has hit a milestone worth celebrating. Starting in the fall of 2013, Powderhook's growth would not have been possible without the help of great partners. Organizations such as The National Wild Turkey Federation, ALPS OutdoorZ, Quality Deer Management Foundation, Cabela's, Vista Outdoor, Yamaha and Nationwide saw the value of Powderhook's mission and partnered with them to help fight the access problem.
Powderhook has learned so much about the outdoor industry in the past two years of being in business and looking back it brings a smile to CEO, Eric Dinger's face.
"While much of our team has hunted or fished their whole life, none of us came from the outdoor industry," Eric Says. "It turns out being a customer of this industry doesn't mean you know much of anything about how it all works… anyone reading this article probably could have told us that! So, we've had to build every relationship from scratch and we've had to rely on the patience and grace of our partners as we've learned what works and what doesn't."

"Good people we've met along the way have been willing to teach us, help us network and strategize with us. As a result, we've been able to help a lot of people find places to go and things to do outdoors. Several thousand people have registered for events on our platform and over 200,000 have used our maps to find a place to go hunt, fish or shoot. There's no question we've got a long ways to go as a business, but given all we've learned, we're in a good position to attack some of the major challenges facing our industry going forward."
A major highlight for the company on the way to 50,000 users was being awarded Outdoor Life's Open Country Corporate Award. Powderhook was greatly honored to be presented with such an important and meaningful award to the future of hunting, fishing and enjoying the outdoors.
Powderhook will continue it's mission of "access for all" and strive to live up to the high standards in which industry and individuals perceive them.
About Open Country by Outdoor Life
Hunters and anglers across the nation consistently list one challenge as their primary obstacle to spending more time in the field: Access. Outdoor Life's Open Country program aims to tackle that issue head on and with boots on the ground. The program highlights volunteer-driven efforts to improve access along with habitat improvements to make existing public lands even better places to hunt and fish. The program's goal is to substantially increase sportsman's access across the country by promoting events that make a difference.
For more information, visit: https://www.outdoorlife.com/blogs/open-country.
About Powderhook
Powderhook's mission is Access for All. That means access for new hunters, anglers and shooters; for parents and their children; for neighbors who haven't been out in the field for years; and for you. Powderhook works with the nation's leading conservation organizations, retailers and manufacturers. The Powderhook platform is bringing our industry together to solve some of its most important problems.
For more information, visit https://www.powderhook.com.