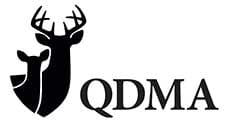 Bogart, GA -(AmmoLand.com)- Two individuals dedicated to improving deer hunting opportunities for those who hunt in Louisiana were honored with Quality Deer Management Association (QDMA) awards at the Louisiana Wildlife and Fisheries Commission meeting on June 4.
Louisiana Department of Wildlife and Fisheries Biologist Manager Tony Vidrine was honored with the Al Brothers Professional Deer Manager of the Year Award and Roland Dugas III was honored with the Al Brothers Deer Manager of the Year Award for Non-Professionals.
Vidrine is LDWF's WMA Ecoregion Manager for the Mississippi Alluvial Valley. He earned a degree in Forestry from LSU In 1983. While at LSU, Vidrine began his LDWF career as a wildlife specialist on Bohemia and Biloxi Marsh WMAs, where he continued to learn and apply the lessons from his time at LSU. His varied experience gained during his 30-year career has prepared him for his present position as a biologist manager. He currently oversees 11 WMAs and 19 additional staff in his management role.
Vidrine's deer management experience has been instrumental in regulatory decisions made by the agency in the lower MAV and statewide. The DMAP program under his supervision has flourished and the breeding data collected has been critical in the establishment of the Deer Management Areas in that portion of the state. Vidrine is credited with implementation of youth lottery hunts on seven WMAs for various species including deer, turkey and waterfowl.
Roland Dugas III of Baton Rouge holds a BS degree in Petroleum Land Management from LSU. He has extensive experience in the acquisition of rural land, and developing those lands to increase their value. He has been a QDMA member since 2003 and a sponsor member in 2006 and 2008. He is also a member of the National Deer Alliance, Ducks Unlimited, CCA-Louisiana, the Rocky Mountain Elk Association and the Black Bear Conservation Coalition.
As part owner of a 9,500-acre property in Avoyelles Parish, Dugas has managed the property to improve wildlife habitat and been responsible for implementation of several conservation easements on the property. He has the property enrolled in the DMAP program and partners with the state's black bear restoration efforts. As a member of the south Louisiana branch of QDMA, Dugas has helped organize and carry out numerous field days, educational seminars and fundraising events.
The awards presented were named in honor of Al Brothers, who is considered the father of quality deer management. Each year QDMA selects one individual worldwide, as the recipient of this award. Individuals are only considered for the award if they are recognized as having a longstanding record or service and contributions to quality deer management and the white-tailed deer resource, having made significant, identifiable impacts on deer and deer hunting through education, research or management on public and private lands.
The award places Vidrine in the honor roll for deer management world along with other distinguished individuals such as Grant Woods, Steve Shea, Karl Miller, and former LDWF employee Dave Moreland.
For more information, contact Steve Smith at 225-765-2359 or [email protected]
About QDMA
Founded in 1988, QDMA is a national nonprofit wildlife conservation organization dedicated to ensuring the future of white-tailed deer, wildlife habitat and our hunting heritage. To learn more about QDMA and why it is the future of deer hunting, call 800-209-3337 or visit www.QDMA.com.
QDMA can also be found on: Facebook, Twitter, Pinterest and Instagram.