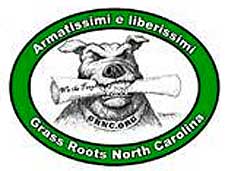 North Carolina –-(Ammoland.com)-Time Change:
On Saturday, GRNC sent an alert asking that you attend the congressional hearing regarding the 'Something Bruin' scandal.
The hearing will still be held tomorrow, Tuesday, June 16, 2015 in Waynesville, NC. However, the time of the event is 10:00 AM, not 10:30 as originally noted. Please attend this hearing, and help to hold these bureaucrats accountable for their dangerous breach of the public trust.
Below, read about the 'Something Bruin' scandal ("Bruingate"), and find the updated information for the hearing.
Something Bruin
Grass Roots North Carolina (GRNC) has been monitoring progress of investigation into the botched 2009-2013 multi-agency sting operation code-named "Something Bruin".
Agencies involved include the US Forest Service, the National Park Service, US Fish and Wildlife Service and North Carolina and Georgia state wildlife agencies. The four year, multimillion undercover operation was claimed necessary to stop "known" bear poaching rings operating in North Carolina and Georgia.
Victims recount "Gestapo-like" tactics.
In February, 2013 dozens of agents in tactical gear carrying automatic weapons raided suspects' homes reportedly seizing everything from firearms, hunting equipment and mounted trophies, to boats, machinery and even toys. Reports are that these raids were conducted without warrants, homes were maliciously ransacked, and residents, including children, terrified.
Ultimately, 81 people were charged with 980 violations. Ten plead guilty to federal misdemeanors, possibly under pressure to avoid costs associated with a jury trial. Only one serious charge, illegally transporting a bear carcass, has resulted in a conviction, after initial dismissal in district court. The illegal transport across state lines in question was apparently done by an undercover agent. The conviction is currently being appealed.
A three-part media series explaining the case is available on YouTube.
Evidence of Entrapment Accumulates.
Sworn testimony during trials and hearings have suggested a pattern of luring hunters to assist undercover officers in illegal activity – the illegal acts themselves being committed by the agents. If true, this is entrapment on the part of the officers involved, that is itself a crime.
Citizens victimized by Operation Something Bruin have filed formal complaints with the federal government.
US Rep. Mark Meadows to Investigate Complaints.
US Congressman Mark Meadows representing North Carolina's western 11th District has scheduled a formal hearing to investigate complaints of wrongdoing. A subcommittee of the House Committee on Oversight and Government Reform will meet Tuesday, June 16 at 10:00 am in the Haywood County courthouse.
Records of all documents and communications by all agencies related to Operation Something Bruin have been subpoenaed prior to the hearing. These records promise to reveal the truth about how this ill-fated sting was conducted.
Seized Property Finally Returned.
Ms. Linda Crisp who's home was involved in the February, 2013 raids reports that property seized was finally returned by the US Forest Service in February, 2015. She reports that confiscated firearms were returned in poor, rusted condition, some with parts missing. Trophy deer and hogs heads with sentimental value were returned with capes off some, as well as antlers broken or sawed off. These had been collected prior to the initiation of the sting operation in 2009. Damaged items will be on exhibit at the June 19th hearing.
Show solidarity with Bruingate victims.
The upcoming hearing presents an opportunity for GRNC supporters to participate in helping get to the bottom of what really happened during Operation Something Bruin, and to support those victimized in the heavy-handed operation.
All who are able to make it to the Haywood County courthouse in Waynesville, NC are strongly encouraged to attend the Tuesday morning hearing.
IMMEDIATE ACTION REQUIRED!
Make plans to attend the Congressional hearing on Operation Something Bruin Tuesday, June 16, at 10:00 AM (10:00 AM is the corrected time).
Email Rep. Meadows and thank him for investigating this troubling government operation.
CONTACT INFO
The Operation Something Bruin hearing will be held Tuesday, June 16, at 10:00 AM, in the Haywood County Courthouse, 285 N. Main St., Suite 1500, Waynesville, NC 28786. Driving directions can be found HERE or at: https://www.mapquest.com/maps?address=285+N+Main+St&city=Waynesville&state=NC&zipcode=28786
Rep. Meadows may be contacted via his webform (use zipcode 28713) HERE or at: https://meadows.house.gov/contact/email-me
DELIVER THIS MESSAGE
Suggested Subject: "Thank you for investigating 'Something Bruin'"

Dear Representative Meadows:

As free Americans it is essential that we are able to trust our government officials to use their authority properly. This trust requires that evidence of wrongdoing is thoroughly and openly investigated.

I am grateful to you and other members of your committee for your willingness to get to the bottom of what really happened during 'Operation Something Bruin'. Your efforts will help maintain the trust of Americans in their government.

Sincerely,
About:Grass Roots North Carolina is an all-volunteer organization dedicated to preserving the freedoms guaranteed us by the Bill of Rights. Our main focus is the right to keep and bear arms. GRNC was central to drafting and passing North Carolina's concealed handgun law and since that time has continued to push for improvements to gun laws. Visit:www.grnc.org