*NEW Venue *NEW Menu *MORE Prizes *MORE Guns *MORE Fun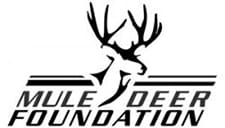 Las Vegas, NV -(AmmoLand.com)- The annual event has a "brand new" venue this year which is the Santa Fe Station Hotel/Casino at 4949 N. Rancho Drive., Las Vegas, NV 89130.
Doors open at 5:30pm and the event starts @ 7pm. This year, the non-profit Mule Deer Foundation with a mission of ensuring the conservation of mule deer, black-tailed deer and their habitats is offering an opportunity for the entire family.
You can purchase tickets by calling Carmen at 702.845.8422 or if you have specific questions about the event, you can call Chapter Chair Kevin McNair @ 702.604.6764. You can also email any questions or to have a copy of the event flyer emailed to you, drop a line to, [email protected] or visit www.muledeervegas.com and you can print your very own copy.
This year's event promises a scrumptious food fare, a firearm door prize, silent and live auctions, a myriad of firearms to win, hunting and outdoor equipment raffle prizes, meat packages, Mule Deer Foundation Merchandise, retailer gift cards, optics, taxidermy discounts, Bass Pro Shops merchandise, a wide assortment of fun games and an atmosphere you simply don't want to miss. Oh, did we mention lots of guns?
Some of the live and silent auctions include: An African hunt for two, deer hunts, hog hunts, fishing trips, ram hunts, pheasant hunts and many more.
It's fun for the entire family AND all for a good cause!
We also have a "buy a table" program where you automatically get a free chance to win a rifle with a table purchase. Call or email for details – SEATS ARE LIMITED SO YOU'D BETTER HURRY.
Event date is 

July 25, 2015
Happy hunting!
About MDF
The Mule Deer Foundation is the only conservation group in North America dedicated to restoring, improving and protecting mule deer and black-tailed deer and their habitat, with a focus on science and program efficiency. MDF is a strong voice for hunters in access, wildlife management and conservation policy issues. MDF acknowledges regulated hunting as a viable management component and is committed to recruitment and retention of youth into the shooting sports and conservation.
Get involved at www.muledeer.org or call 1-888-375-3337.