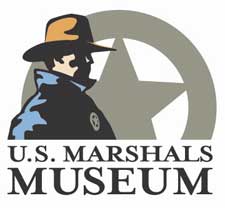 Little Rock, AR -(AmmoLand.com)- This week at the Arkansas State Capitol, the U.S. Marshals Museum presented Governor Asa Hutchinson with a limited edition U.S. Marshals Museum Colt Peacemaker.
Senator Jake Files, along with Representatives George McGill, Justin Boyd and Matt Pitsch, accepted the Umarex USA commemorative airgun on behalf of the Arkansas General Assembly.
"We were proud to partner with Umarex USA to produce these limited edition U.S. Marshals Museum Colt Peacemakers and honor the brave U.S. Marshals who have put their lives on the line to keep our nation safe," said Jim Dunn, president and CEO of the U.S. Marshals Museum. "Today's presentation is a small way to say thank you to Governor Hutchinson and the Arkansas General Assembly for their continued support of the U.S. Marshals Museum."
In January 2015, Umarex USA produced 500 limited edition U.S. Marshals Museum Colt Peacemakers with a U.S. Marshal emblem on its grip. 10 of the 500 commemorative airguns were donated to the U.S. Marshals Museum for auction sales.
"We're proud to have been able to provide a product for display from our Arkansas-based company, and it was an honor that one of our products could be used to promote the U.S. Marshals Museum and Fort Smith," said Richard Turner, vice president of sales and marketing at Umarex USA.
About the U.S. Marshals Museum
The future U.S. Marshals Museum will be a national museum located on the riverfront in Fort Smith, Ark. Museum plans include three permanent exhibit galleries, a temporary exhibit gallery, the Samuel M. Sicard Hall of Honor and a National Learning Center. The museum will tell the more than 225 year story of the U.S. Marshals Service, the oldest law enforcement agency in the United States, and honor the sacrifice of marshals killed in the line of duty.
For more information, visit www.USMarshalsMuseum.org.
About Umarex USA
Umarex USA is one of North America's fastest growing sport and recreation gun companies. Umarex USA develops and markets airguns under brands licensed by its parent company, Umarex Sportwaffen GmbH & Co. KG. Such brands include Walther, RWS, Smith & Wesson, Browning, Heckler & Koch, Ruger, Beretta, Colt, Magnum Research, Regent, IWI, UZI, and others. For additional information regarding Umarex USA visit UmarexUSA.com and follow Umarex USA on Facebook and YouTube. Follow and subscribe to Umarex USA online: www.UmarexUSA.com, Facebook.com/UmarexUSA, Twitter.com/UmarexAir, and YouTube.com/UmarexAir.