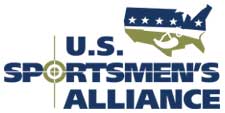 Columbus, OH -(AmmoLand.com)- Gov. Jerry Brown recently appointed two new members to the California Fish and Game Commission, and replaced controversial Commissioners Michael Sutton and Richard Rogers.
This long-awaited action comes as great news for the conservation community. For sportsmen, the two appointees represent the first critical step toward returning balance and integrity to the commission and restoring the invaluable role that science plays in crafting natural resource policy for the country's most populous state.
"We applaud Gov. Brown and his appointments staff for selecting two new commissioners to the board rather than maintaining the status quo. These appointees provide a much greater geographic and demographic representation of California's citizens, and they will undoubtedly bring the voices of varied interests and perspectives to any discussion," said Michael Flores, senior director of western operations for Sportsmen's Alliance. "Consistent with his wise appointment of Commissioner Jacque Hostler-Carmesin, we believe that Gov. Brown is effectively re-establishing a commission capable of having more rational and reasonable deliberations on topics that require objective analysis and science-based policy decisions. It is very evident that Gov. Brown and his staff understood and agreed with the concerns of the conservation community."
Under the banner of the Al Taucher Conservation Coalition, which Sportsmen's Alliance revived in 2014, several conservation organizations had called for new commission appointments and ultimately prevailed in the face of ardent opposition. The Humane Society of the United States, Project Coyote and other animal-rights groups had lobbied to keep Commissioner Richard Rogers of Santa Barbara and Commissioner Michael Sutton of Monterey on the board, despite their terms ending as many as four years ago.
The two new commissioners, both attorneys, hold promise of evaluating evidence and facts as they are presented and not being easily swayed by popularity concerns and the politics of emotion. They also bring a different, more inland-based, background to the commission, which has been dominated by residents of coastal communities.
Eric Sklar, 52, of St. Helena, located in northern California's Napa Valley, is a vintner who is deeply involved in the area's wine industry, as well as serving as a member of the St. Helena city council. He earned his Master of Business Administration from the Georgetown University McDonough School of Business and was an adjunct professor there from 1997-99. Sklar is a sportsmen who enjoys waterfowl and upland-bird hunting.
Anthony Williams, 47, of Huntington Beach, originally hails from Bakersfield in California's central valley. Williams earned a Juris Doctor degree from the University of the Pacific, McGeorge School of Law and a Master of Public Policy degree from the Harvard University, John F. Kennedy School of Government. He has been director of government relations at the Boeing Company since 2014 and has served in various legal capacities in the public and private sectors, including as director of government affairs at the State Bar of California from 2004-06.
"With their legal background, we look forward to the scrutiny of facts and evidence Commissioners Sklar and Williams will bring to the decision-making process that will make them better equipped to discount or dismiss the emotional arguments that were so compelling to the former commissioners," said Josh Brones, coordinator of government affairs of western operations for Sportsmen's Alliance.
About the U.S. Sportsmen's Alliance Foundation
The U.S. Sportsmen's Alliance Foundation (USSAF) is a 501(c)3 organization and protects and defends America's wildlife conservation programs and the pursuits – hunting, fishing and trapping – that generate the money to pay for them. The USSAF is responsible for public education, legal defense and research. Its mission is accomplished through several distinct programs coordinated to provide the most complete defense capability possible.