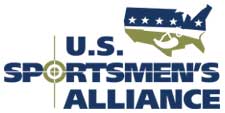 Columbus, OH –-(Ammoland.com)-The U.S. Sportsmen's Alliance Foundation has once again earned the highest rating possible for sound fiscal management and commitment to accountability and transparency from Charity Navigator, America's premier charity evaluator.
The coveted 4-star rating is only reserved for organizations that adhere to good governance and best practices that minimize the chance of unethical activities and consistently execute their mission in a fiscally responsible way. Organizations must also exceed industry standards and outperform most charities in its cause.
Also of importance the fact that only 19 percent of charities evaluated by Charity Navigator have received at least two consecutive 4-star evaluations. This is an indication of our foundation's commitment to perfection and living up to the expectations of a four-star charity, year after year.
"As an organization, our entire staff is extremely proud of this accomplishment," said U.S. Sportsmen's Alliance Foundation Vice President of Membership and Development, Sean Curran. "We live and breathe our mission; to protect and advance America's heritage of hunting, fishing and trapping. Our organizational culture strives to make the most of each and every dollar contributed by our members. Whether you are a long-time contributor, or a new member ready to join, you can trust that your contributions will have a significant impact."
Not every charity out there puts as much effort into maintaining a solid reputation. In June 2014, the Humane Society of the United States (HSUS) was slapped with a donor advisory which encouraged people to think twice about giving to the deceptive organization. Serious concerns have been raised about this charity which prevents the issuance of a star rating. As of June 2015, the donor advisory is still in effect.
Charity Navigator evaluates over 8,000 charities (ten times more charities than their nearest competitor), all while attracting more visitors to their website than all other charity rating groups combined. As the leading charity evaluator in America, Charity Navigator influenced approximately $10 billion in charitable gifts last year.
About the U.S. Sportsmen's Alliance Foundation: The U.S. Sportsmen's Alliance Foundation (USSAF) is a 501(c)3 organization and protects and defends America's wildlife conservation programs and the pursuits – hunting, fishing and trapping – that generate the money to pay for them. The USSAF is responsible for public education, legal defense and research. Its mission is accomplished through several distinct programs coordinated to provide the most complete defense capability possible. Stay connected with USSA: Online, Facebook and Twitter.