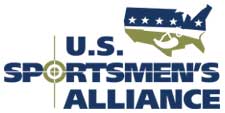 Columbus, OH –-(Ammoland.com)- Social media has changed how people communicate. When I was growing up, I would take photos on a basic film camera of the fish and game our family caught or shot and then wait until that particular roll was full before sending it in to be developed.
By the time the pictures came back, it was usually already the following season and sharing them almost seemed like reporting old news.
Fast forward to just a few weeks ago when my wife shot her first gobbler in Ohio. Within minutes I shared her photos on social media and with family and friends via email and text. By the time we left the farm, several hundred people had already seen them.
But is the ability to post hunting and fishing photos for the masses to see and comment on a good thing?
There are many sides to this argument and you will read about several aspects of the situation in this issue of Sportsmen's Monthly. Personally, I think it's great to share photos of our outdoor passion, but I also believe lines can be crossed that only serve to invite negative backlash from anti-hunters and even non-hunters who aren't necessarily against hunting.
That said, it is the anti-hunting community that routinely crosses the line from general disagreement and into the world of bullying, antagonizing and threats. Anti-hunting celebrities can make it worse when they decide to share their opinions.
For example, Ricky Gervais, who has more than 10 million followers on Facebook and Twitter, mocked and rebuked a female hunter named Rebecca Francis for killing an old bull giraffe while in Africa. His followers on social media took it even further, calling her disparaging names, wishing harm and even death upon her.
While it would be nice to chalk this up to online bravado, it's not a stretch to believe that of Gervais' millions of followers, one might actually attempt to harm Francis or another hunter.
Celebrity worship in today's society is what makes idle threats scary, and the ability to find personal information online is what makes those threats very real. When posting photos on social media, take precautions about who you are sharing those images with and how they reflect upon your hunt, as well as all hunters.
Those images and how you engage online with those who have different views are important building blocks with non-hunters.
You're never going to convince an anti-hunter to change their view, but what you post could influence a non-hunter – and that has ramifications for all of us when a vote to protect hunting is needed.
Nick Pinizzotto | President and CEO
Read it here:
U.S. Sportsmen's Alliance, Sportsmen Monthly June 2015
About:The U.S. Sportsmen's Alliance is a national association of sportsmen and sportsmen's organizations that protects the rights of hunters, anglers and trappers in the courts, legislatures, at the ballot, in Congress and through public education programs. Visit www.ussportsmen.org.