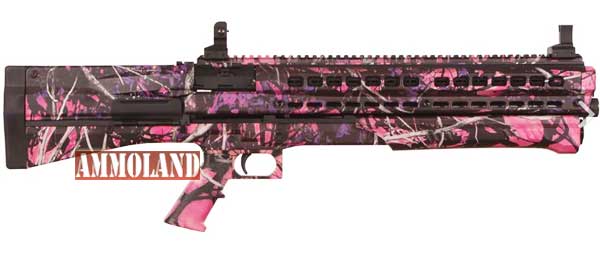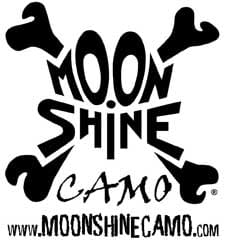 PLEASANT MILLS, PA –-(Ammoland.com)- Moon Shine, LP, designer of Moon Shine Camo, announces their partnership with UTAS.
UTAS offers their UTS-15 (Ultimate Tactical Shotgun) in Muddy Girl Camouflage.
"The UTS-15 is unlike any other shotgun on the market.  The aggressive look of our Muddy Girl Camo is a complimenting finish to UTAS' attitude-driven design", stated Moon Shine Camo Licensing Manager, Brett Erb.
The UTS-15 is a bullpup 12 gauge pump-action shotgun with two 7-round magazine tubes that can feed in an alternating or selecting pattern.  It has a 28.3" overall length with an 18.5" barrel, chambered for 2½", 2¾", and 3" magnum ammunition. Constructed primarily of fiber reinforced injection molded polymer, the UTS-15 weighs only 6.9 lbs for quick pointing and easy handling.
The top mounted picatinny rail allows for the mounting of a wide variety of both iron and optical sights, which coupled with Beretta style barrel threading for choke tubes allows the UTS-15 to adapt to any situation.
Kyle Barton, VP of Sales & Marketing commented, "The UTAS family is now thrilled to have the opportunity to partner with Moon Shine Camo and their exceptional Muddy Girl design. Incorporating the Muddy Girl pattern into our lineup has helped us tap into the swiftly rising female shooting market, as well as, the all-important collector and enthusiasts circles, which are constantly looking for the most unique and revolutionary products available in the firearm industry."

"Our partnership has thus far blown away all expectations and has been met with vats success from day one!"
About Moon Shine, LP:
Moon Shine, LP is a cutting edge designer of quality brand name apparel and camo that conveys the attitude and traditional values of every generation. From the hunters and farmers who live off our lands to the soldiers and patriots who protect it, join them in honoring the essence of the American Legacy. For more information, visit www.moonshinecamo.com or call 1.800.4.MOON.SHINE (800-466-6674).
About UTAS-USA:
UTAS specializes in firearms design, engineering and OEM manufacturing.  They are one of the top sporting firearms design companies with their designs being voted "Gun of the Year" by the NRA's American Rifleman Magazine in 2006 and again in 2007. Although UTAS continues to win awards for beautiful designs, the heart of the company is innovation.  For more information, visit www.utas-usa.com or call 1.847.768.1011.