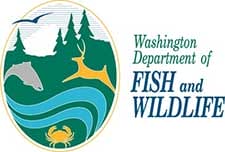 Washington  -(Ammoland.com)- Land managers for the Washington Department of Fish and Wildlife (WDFW) are restricting target shooting on the Wenas Wildlife Area and are asking recreationists throughout the state to take care to avoid sparking a wildfire.
With drought conditions across the state, anyone heading outdoors for the long Memorial Day weekend should be aware of fire risks, said Clay Sprague, manager of the WDFW lands division. Information about local fire-danger is available at http://fortress.wa.gov/dnr/firedanger/BurnRisk.aspx .
"It's essential that we protect public lands for both recreation and wildlife habitat," Sprague said.
Effective May 22 through Sept. 30, target shooting will be restricted on the Wenas Wildlife Area to the hours between sunrise and 10 a.m., when the risk of starting a wildfire is less severe.
The department has restricted target shooting on the wildlife area, located between Yakima and Ellensburg, every year since 2012. This year's restriction takes effect earlier in the year and reduces by one hour the number of hours per day that target shooting is allowed, said Cindi Confer Morris, manager of the WDFW wildlife area.
Target shooting has caused several wildfires on the wildlife area in recent years including three fires in 2014 alone. Last summer's Cottonwood No. 2 fire burned almost 9,000 acres and cost $800,000 to suppress. Restoration of the charred landscape has cost another $500,000 so far.
"Last year's fires followed by this year's drought compel us to take a more cautious approach," Confer Morris said.
Public notice of the limited hours announced today will be posted at all entry points and at established target shooting sites in the wildlife area.
WDFW adopted the restriction in cooperation with the Washington Department of Natural Resources (DNR), which owns lands within the 114,150-acre wildlife area.
In addition to this restriction, the department is considering a proposal to permanently restrict target shooting to two designated sites and would continue to restrict target shooting to morning hours during late spring and summer, when fire danger is the greatest. The department held two public meetings this spring to discuss this target-shooting proposal for the Wenas Wildlife Area.
WDFW will continue to involve the public in developing a plan for target shooting on the wildlife area. The department expects to make the decision later this fall.
Like all of WDFW's wildlife areas and water-access sites across the state, the Wenas Wildlife Area also has prohibitions on fireworks and incendiary devices, including tracer rounds and exploding targets, to reduce the risk of wildfire.
Lands manager Sprague reminds people who plan to visit WDFW wildlife areas in south central Washington – including the Wenas, Colockum, L.T. Murray, Oak Creek and Sunnyside-Snake River wildlife areas – of a campfire ban that's in place through Oct. 15. Visitors to the Columbia Basin Wildlife Area in Grant and Adams counties also should be aware of a campfire ban until Oct. 31.
For more information on WDFW wildlife areas, see the department's website at http://wdfw.wa.gov/lands/wildlife_areas/ .