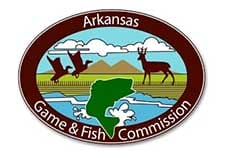 Arkansas  -(Ammoland.com)- More incidences of bats infected with white-nose syndrome, a fungal disease deadly to bats, have been found at several locations in the Ouachita Mountains and in the Ozark Mountains.
White-nose Syndrome has now been confirmed on bats in caves in Franklin and Searcy counties and the fungus associated with WNS has been found in mines in Garland and Polk counties.
The confirmation came after bats from a number of sites were tested by the National Wildlife Health Center and by the Center for Microbial Genetics and Genomics at Northern Arizona University.
The fatal fungus was first confirmed in Arkansas in 2012. White-nose syndrome is believed to cause bats to use up their fat reserves rapidly during hibernation. Affected bats fly out of caves during winter in an attempt to find food. Since the insects bats eat are seasonally dormant, the bats die of starvation.
While the night creatures are often portrayed in a negative light, bats play a key role in keeping insects, including agricultural pests, mosquitoes, and forest pests under control, said Blake Sasse, Nongame Mammal/Furbearer Program leader with the Arkansas Game and Fish Commission. "Millions of pounds of insects could have been consumed by the nearly 7 million bats killed by white-nose syndrome since it became active in North America."
White-nose syndrome was discovered in a cave in New York in 2006. Since then it has been confirmed in five Canadian provinces and 26 states. The disease is also suspected in three additional states.
Sasse said, "We now have 20 caves in 11 counties that are confirmed positive or suspected for white-nose syndrome. These 11counties are: Baxter (suspect), Franklin (confirmed), Garland (suspect), Independence (confirmed), Madison (suspect), Marion (confirmed), Newton (confirmed), Polk (suspect), Searcy (confirmed), Stone (confirmed), and Washington (suspect).
The cases in Polk and Garland counties in the Ouachita Mountains are the first for that area. Earlier cases have been found in the Ozarks Mountains.
White nose syndrome is not known to affect humans.
Sasse said that WNS only impacts bats during the winter but that persons should not approach or touch dead or dying bats at any time. To learn more about this disease go to
www.whitenosesyndrome.org
and
www.fws.gov
.