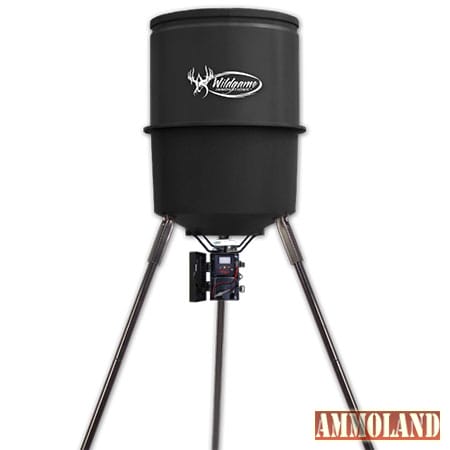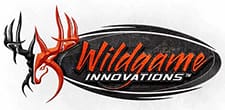 New Roads, LA -(AmmoLand.com)- The new Quick-Set 225 tripod feeder from Wildgame Innovations hits the sweet spot between big and small, making it the perfect feeder for beginners or experienced deer managers and hunters.
Having a feeder that's easy to set up and maintain goes a long way to having a successful nutrition program. If the feeder is too small, it often runs out of feed or requires too many visits to keep it supplied. If the feeder is too big, it requires several strong backs to set it up, and filling it can be a major chore. Enter the Quick-Set 225.
This feeder's light but sturdy 30-gallon poly barrel holds 225 pounds of corn or pelletized feed, so you don't have to fill it every few days to keep deer coming back. The built-in funnel reduces waste and keeps feed from building up around the edges and spoiling.
Wildgame Innovations' new Rivet Hardware System makes the Quick-Set 225 allows for a lightning-fast 15 minute setup time. The heavy duty 12-piece coated leg kit is both sturdy and easy to handle.
This broadcaster spreads feed approximately 30 feet in 360 degrees, keeping feed from concentrating in one area. This reduces feed spoilage and reduces competition among the deer since the feed is spread out in a large area.
The spinner plate is made of galvanized steel, and the newly designed digital power control unit offers up to four feed times.
Quick-Set 225 Highlights:
New easy setup assembly in approximately 15 minutes
New Rivet Hardware System for easy set up
Durable 30 gal/225 lb capacity poly barrel design
Built-in funnel reduces feed waste
Heavy-duty 12-piece coated leg kit
Newly designed digital power control unit
4 available feed times
Galvanized steel spinner plate
6V battery operation (not included)
For more information about the Quick-Set 225 feeder, or to see the entire line of Wildgame Innovations game feeders, please visit: www.wildgameinnovations.com.
About WGI Innovations, Ltd.
WGI Innovations, Ltd. is the distinct leader in the game scouting camera, feeder and outdoor electronics market. Wildgame Innovations strives to provide big game hunters and game management professionals with the latest and greatest in outdoor innovation. Our lines of feeds, seeds, and attractants are specially formulated to keep your herd healthy, active and growing year after year.
For more information, please visit www.WildgameInnovations.com.