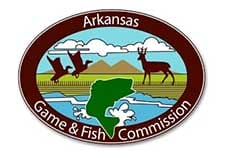 Arkansas  -(Ammoland.com)- Hunting may be the furthest thought from the minds of Arkansas outdoorsmen, but fall hunting was on the agenda for last week's meeting of the Arkansas Game and Fish Commission.
During the meeting, the Commission set the state's dove season dates. Commissioners also heard a proposal for the late migratory bird seasons.
Early migratory bird season dates:
Mourning Dove and Eurasian Collared Dove
Sept. 5-Oct. 24
and
Dec. 19, 2015-Jan. 7, 2016
Teal Season
Rail Season
Woodcock Season
Common Snipe Season
Nov. 1, 2015-Feb. 15, 2016
Purple Gallinule and Common Moorhen Season
Early Canada Goose Season
Northwest Canada Goose Zone Season Sept.
19-28
AGFC Waterfowl Program Coordinator Luke Naylor presented the Commission with the late migratory season proposals.
Proposed duck season dates:
Dec. 26-Jan. 31
Canada, White-fronted, snow, blue and Ross's goose seasons
Nov. 19-Jan. 31
Snow, blue and Ross's goose conservation order
Oct. 10-Nov. 18
,
Feb. 1-5
and Feb. 8-
April 25
The late migratory bird season dates and regulations will be approved at the August commission meeting.
In other business, the Commission:
*Authorized the director to enter into an agreement to purchase a 5-acre parcel adjacent to Two Bayou Creek Wildlife Management Area in Ouachita County. Cost of the property is $15,000. Federal Wildlife Restoration Funds will cover 75 percent of the acquisition cost.
*Heard the 2016 proposed fishing regulations.
*Heard a regulation change proposal to remove the outboard motor restriction on the Eleven Point River.
*Authorized the director to enter into an agreement to purchase a 160-acre in holding on Sheffield Nelson Dagmar WMA in Monroe County. Purchase price is $480,000. Money for the purchase includes $360,000 from Wildlife Restoration Funds and $120,000 earmarked from non-resident duck stamp funds.
*Discussed a proposed change in the spring 2016 turkey season regulations. *Honored 22 employees for their service to the AGFC. The group had a total of 420 years of experience with the agency.