New store is company's 10th in Florida and will salute the area's diverse landscapes, abundant wildlife, and outdoor traditions.
Tampa, FL -(AmmoLand.com)- When the doors of the Bass Pro Shops Brandon/Tampa Outdoor World swing open on July 29, visitors will be amazed at how artisans have captured the beauty and outdoor opportunities found in Florida's Sun Coast region.
Like all Bass Pro Shops, the Brandon/Tampa Outdoor World features customized design and inventory that salutes the natural beauty of the region and rich traditions of fishing, boating, camping, hunting and hiking. This must-see destination store is the company's 10th in the Sunshine State and will feature 130,000 square feet of outdoor gear, apparel, footwear and nature-themed gifts.
Decorating With Nature in Mind
Bass Pro Shops uniquely designed, award-winning stores are often considered to be part museum, art gallery, antique store, aquarium, and centers for conservation education and fun. Décor includes hand-painted murals that wrap the store's interior and depict familiar scenes of the region. One gets the sense of traveling through the Tampa Bay area's landscape as the murals transport the viewer through a series of panoramic vistas—all beautifully replicated with the stroke of an artist's brush. Through the use of special lighting techniques, the murals take on a living, breathing quality.
The lobby is designed to resemble an old Florida trophy room, and features native fish and wildlife mounts from Florida and species from other areas of North America. The King of Bucks display, a collection of world record white-tailed deer mounts, will include the James Stovall buck that was taken in Green Swamp not far from Tampa.
The 11,000-gallon freshwater aquarium is constructed to look like a sinkhole with water pouring into it and is surrounded by various wildlife mounts and exhibits including wild boar, black bear, and white-tailed deer. A mural near the aquarium portrays a scene of white-tailed deer jumping through the Hillsborough River.
The aquarium will be stocked with approximately 100 fish native to the area such as largemouth bass, hybrid striped bass, black crappie, bowfin, longnose gar, Florida gar, bluegill, redear sunfish, warmouth, chain pickerel, and channel catfish.
Each department in the store features an outdoor theme created by murals and dioramas including:
A diorama in the clerestory (area near the high, overhead ceiling) main aisle shows an offshore fishing scene with dolphins and other pelagic fish in the Gulf of Mexico.
The clerestory murals and dioramas transition into nearshore fishing scenes with tarpon and kingfish; mangrove estuaries with snook, redfish, spotted seatrout and other inshore fish; and culminate in the pine forests with palmettos, oak trees, cabbage palms, Osceola turkeys, black bear, and a Florida panther.
"Uncle Buck's Bait Shack" –a building that replicates an old Florida stilt shack—sits above the footwear department. Set on a cypress tree-filled lake, a vintage 1982 Bass Tracker fishing boat hangs suspended next to the building and appears to float on the lake.
The fishing department mural represents the Little Manatee River in its freshwater beginnings and its transition to saltwater where it ends in Tampa Bay.
The hunting counter will display white-tailed deer, coyotes, and a diorama of two wild hogs battling. The mural behind the counter is of the Green Swamp.
The mural in the marine department is of an old nautical map with two areas of Tampa Bay represented.
Vintage photos and gear complete the scenes and highlight the area's original sportsmen and women. Plus, Bass Pro Shops dedication to detail is evident wherever visitors look as artisans work to create a visual style unique to that store, including handcrafted ornate metal fire screen doors, iron railings, sconces and more.
Store Features Islamorada Fish Company Restaurant
In addition, the Brandon/Tampa Bass Pro Shops Outdoor World features the popular Islamorada Fish Company restaurant. Islamorada Fish Company began in 1948 as a marina snack bar in the Florida Keys offering the freshest fish possible at a reasonable price. Since then, Islamorada Fish Company restaurants have opened in several Bass Pro Shops stores. The 8,000–square-foot restaurant in the Brandon/Tampa store will offer a wide variety of fresh seafood and steak entrees. A 2,000-gallon saltwater aquarium, located inside the restaurant, will be home to colorful and exotic Pacific reef fish.
The Merchandise Matches Local Shoppers' Needs
But the attention to detail doesn't stop with store design and imagery elements. The same consideration is given to merchandise selection. The Bass Pro Shops Outdoor World store will offer customers an amazing assortment of high-quality apparel and gear featuring top industry brands such as RedHead, Ascend, Oculus, Columbia, Browning, Offshore Angler, Penn, Under Armour, and hundreds more.
Visitors will have the area's largest array of freshwater and saltwater rods, reels and fishing accessories to choose from – all specially selected for the area. The White River Fly Shop will offer a vast selection of the latest in fly fishing gear.
In the hunting department, customers will find an equally impressive array of hunting clothing and gear while the archery department offers a bow set-up shop.
More than a hunting and fishing store, visitors also will find items perfect for camping, hiking, outdoor cooking, bird watching or whatever their outdoor pleasures may be. A gift and nature center offers a variety of items such as:
Artwork
Lamps
Bird feeders
Furniture
Home decorating items
Gifts for the holidays
Cooking accessories such as cookbooks, spices, grills, and jerky making items.
The store's 9,800-square-foot boat showroom will display a full range of boats from Tracker Marine, the world's largest manufacturer of fishing boats. From Mako saltwater boats, to Nitro high performance fishing boats, Sun Tracker and Regency pontoon boats, Tahoe pleasure boats, and Tracker fishing boats, canoeing and even kayaking, customers will find exactly what they need. Plus, four service bays will allow customers to get their boats rigged, serviced, and maintained right on the spot.
In addition to offering name brand gear and apparel, Bass Pro Shops Outdoor World is the go-to place to learn how to enjoy the outdoors. The store has hired 300-plus dedicated associates from the Brandon/Tampa area who are knowledgeable about the outdoors. The store will offer free outdoor skills workshops throughout the year for adults, kids and families that will help maximize outdoor fun by teaching new skills and improving existing ones.
Learn About Bass Pro Shops Dedication to Conservation
Since the beginning, Bass Pro Shops Founder Johnny Morris has been dedicated to inspiring people, especially youth and families, to love, enjoy and conserve the great outdoors. That commitment, demonstrated over the course of several decades, is a big reason why Bass Pro Shops is known as the outdoor industry's corporate conservation leader.
Visitors will see that dedication reflected in the Conservation Partner Wall, which is located near the checkouts at the Brandon/Tampa Bass Pro Shops store. The logos of the many national conservation groups that Bass Pro Shops partners with are all displayed there.
A special Evening for Conservation to help benefit area conservation groups will take place Wednesday night, July 29 beginning at 6 p.m. This exciting, celebrity-packed event is free and open to the public and kicks off the grand opening event that continues July 30 through August 2. Information regarding this event will be available soon.
For more information regarding the store visit Bass Pro Shops Brandon/Tampa Outdoor World.
Watch below for a general video about Bass Pro Shops: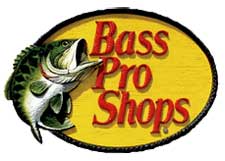 About Bass Pro Shops
Bass Pro Shops, which specializes in outdoor fun, operates 92 stores and Tracker Marine Centers across America and Canada that are visited by more than 120 million people every year. Bass Pro Shops stores, many of which feature restaurants, offer hunting, fishing, camping and other outdoor gear while their catalogs and website serve shoppers throughout the world. The company's Tracker Marine Group, a leading brand of fishing boats for more than 37 years, manufactures and sells a variety of boats for fishing and cruising. Family fun is on tap at Bass Pro Shops resort Big Cedar Lodge, voted number six by Travel + Leisure Magazine as World's Best Hotels for Families. To request a free catalog, call 1-800-BASS PRO. Follow us on Facebook at http://www.facebook.com/bassproshops.
For more information, visit http://www.basspro.com.