Young chapter committee will focus on habitat improvements to boost bobwhite numbers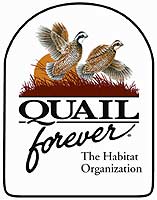 Arcola, IL -(AmmoLand.com)- Quail hunters and conservationists in eastern Illinois have combined efforts to establish the most recent chapter of Quail Forever in the state.
Officially known as the Kaskaskia River Valley Chapter of Quail Forever, the new committee is eager to bring back the bobwhite quail through local wildlife habitat improvements and conservation education for area landowners.
"The Kaskaskia River Valley Chapter of Quail Forever represents the young, up-and-coming volunteer base for our organization and a turning point for quail conservation efforts," said Dick Wyatt, regional representative for Quail Forever and Pheasants Forever in Illinois. "I am thrilled to work with these enthusiastic volunteers and look forward to building Quail Forever habitat projects in eastern Illinois."
Similar to all Quail Forever chapters nationwide, the Kaskaskia River Valley Chapter of Quail Forever will utilize the organization's signature fundraising model. Unique among national conservation organizations, Quail Forever chapters are empowered with 100 percent control over the funds they raise at banquets and other events. This allows chapters to direct their funds to complete upland habitat projects and host youth conservation events in their areas.
Through a series of chapter expenditures and state habitat grants, volunteers of "The Habitat Organization" are making positive impacts for wildlife habitat conservation in Illinois. In fact, Illinois' 19 Quail Forever chapters and 41 Pheasants Forever chapters have spent over $15 million to complete 37,229 habitat projects, improving more than 356,000 acres for upland gamebirds and other wildlife. These accomplishments can be attributed to the incredible support of more than 10,000 Quail Forever and Pheasants Forever members statewide.
Kaskaskia River Valley Chapter of Quail Forever
The Kaskaskia River Valley Chapter of Quail Forever has elected Matthew Schlabach of Arcola as president, Matt Bova of Crystal City as vice president and banquet chair, Darrell Miller of Arthur as treasurer, and Brian Yoder of Arcola as habitat chair.
For more information about the chapter or to become involved, please contact chapter president, Matthew Schlabach, at (217) 268-3820 / email. For more information about starting a chapter of Quail Forever or Pheasants Forever in Illinois, or to become a volunteer within a local chapter, contact Dick Wyatt at (217) 733-2173 / email.
About Quail Forever
Pheasants Forever, including its quail conservation division, Quail Forever, is the nation's largest nonprofit organization dedicated to upland habitat conservation. Pheasants Forever and Quail Forever have more than 140,000 members and 700 local chapters across the United States and Canada. Chapters are empowered to determine how 100 percent of their locally raised conservation funds are spent; the only national conservation organization that operates through this truly grassroots structure. Since creation in 1982, Pheasants Forever has spent $577 million on 489,000 habitat projects benefiting over 12 million acres nationwide.
For more information, visit: www.QuailForever.org