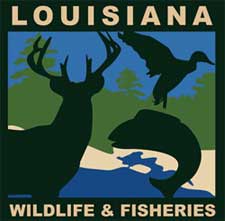 Louisiana –-(Ammoland.com)- The Louisiana Department of Wildlife and Fisheries is advising bow hunters that they may lawfully carry any caliber firearm when bow hunting on private property during Louisiana's archery season.
Previous law prohibited bow hunters from carrying any firearm larger than a .22 caliber pistol while bow hunting.
Senate Bill 212 by Sen. Rick Ward, signed into law on June 29 2015 by Governor Bobby Jindal, provides hunters that option for personal protection during archery season. As such, any firearm, including pistols, rifles and shotguns may be carried by a bow hunter.
The new law should not be construed to mean that game can be taken with firearms carried for protection.
The bill's language, however, does not limit the ability of the department and the Louisiana Wildlife and Fisheries Commission (LWFC) to regulate hunting activities and weaponry in a wildlife management area (WMA). Current WMA regulations for 2015-16 allow bow hunters to carry rifles and handguns .22 caliber, or smaller, during archery season.
For more information on the upcoming hunting season, review the 2015-16 Louisiana Hunting Regulations available on the LDWF website at http://www.wlf.state.la.us/hunting/regulations .
The Department of Wildlife and Fisheries is charged with managing and protecting Louisiana's abundant natural resources. For more information, visit us at www.wlf.louisiana.gov on Facebook at www.facebook.com/ldwffb or follow us on Twitter @LDWF.