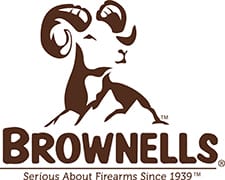 Grinnell, IA -(AmmoLand.com)- Recently added to the Brownells website, the New Product Center highlights the hottest new products picked up by the savvy Brownells merchandising team.
Hosted by Merchandise Manager Paul Levy, the videos remain at the New Product Center page for several weeks, are archived on the Brownells YouTube channel, and are accessible at any time.
Products featured in this week's video include:
1. Knights Armament Ambidextrous Safety Kit (#100-016-834). All-steel safety selector drops into standard AR-15 lower receiver, and comes with three different inserts that allow the user to configure it as a true ambidextrous safety, or with one side as a low-profile selector, or one side as indicator arrow only.
2. MAGPUL M-LOK Handstop Kit. Polymer parts fit onto MAGPUL M-LOK handguards and serve as either low-profile M-LOK slot index point to help improve weapon control, or as full handstop to help prevent the support hand from reaching the hot front sight or the muzzle. Includes adapter for use on wider-profile rails.
Available in the following colors:
Black (#100-017-435). $23.70 retail.
FDE (#100-017-437). $23.70 retail.
Gray (#100-017-438). $23.70 retail.
O.D. Green (#100-017-440). $23.70 retail.
3. Ergo Grip Delta Grip For LCR/LCRX (#573-000-083). Black rubber grip fits onto Ruger LCR/LCRX revolvers and aligns with the natural angles and mechanics of the human hand, wrist and arm. Gives superior pointability and control that helps with fast shooting in high-stress situations.
4. Tango Down Vickers Extended Slide Stop For Glock 42/43 (#100-017-672). Steel slide stop drops into Glock 42/43 and gives extra length to make it easy to reach. Deep V-shape and serrations give extra leverage and grip for simple, no-slip operation, even when wearing gloves.
5. Criterion .308 Hybrid Barrels. Stainless steel barrels drop into DPMS-pattern or SR-25-style .308 AR uppers and give chamber throat and rifling optimized for maximum accuracy potential with M118LR ammunition. Barrels have rifle-length gas systems, and standard 5/8"-24 muzzle threads accept a wide variety of muzzle devices.
20" Hybrid barrel (#100-016-756). $319.99 retail.
22" Hybrid barrel (#100-016-757). $319.99 retail.
About Brownells
Serious About Firearms Since 1939, Brownells is the world's leading source for gun parts and accessories, ammunition, gunsmithing tools, survival gear and archery. With a large selection of both common and hard-to-find items, and an extensive collection of videos, articles, and gun schematics, Brownells is the expert for everything shooting-related. Committed to maintaining our great traditions, Brownells has more, does more and knows more – and guarantees it all, Forever. Stay up-to-date with Brownells on Facebook, Twitter and Instagram.
For more information or to place an order, call 800-741-0015 or visit www.Brownells.com.