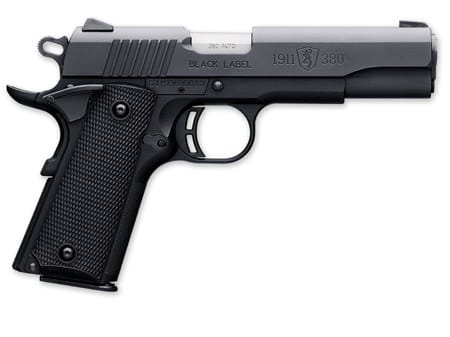 (AmmoLand.com) For 2015 Browning is proud to introduce the Black Label 1911-380 autoloading pistol. This new offering pairs two of John M. Browning's original inventions — the Model 1911 handgun and the 380 ACP cartridge. The 1911 has been a favorite firearm among shooters for decades and the new 1911-380 keeps with that tradition of innovation and function.
Scaled down to 85% of the size of the original 45 ACP versions, the new single-action Browning 1911-380 is made in the USA and utilizes a precision built composite frame. Extras like an extended ambidextrous safety, beavertail grip safety, machined steel slide and skeletonized hammer are also featured. The new Black Label 1911-380 comes in a matte black finish with fixed combat sights.
The overall length is 7 ½" and average weight is 17 ½ oz. Slightly larger than most 380 ACP pistols, the size manages recoil better and improves control for more accurate follow up shots. The grip is narrow, but long and wide enough for comfortable shooting. Barrel length is 4 ¼", which increases bullet velocity for more downrange punch and improved accuracy for sport shooting. The magazine capacity is 8 rounds. ABS carrying case included.
Suggested Retail: $669.99.
For more information on Browning products, please visit the website at www.browning.com.