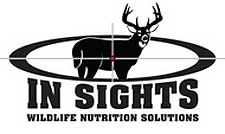 Lometa, TX -(Ammoland.com)- With over 30 years' experience in the feed and commodities industry In Sights Nutrition owners; Jason Grau and Steve Stone have built a solid reputation for knowing what animals require to grow healthier and larger.
This experience has also led them to formulate and produce products with the smell and taste wild game animals, like deer, can't resist.
One such product is Buck Draw, a product for deer that is both a supplement and an attractant that is specially formulated and made with real peanuts. As a supplement, Buck Draw provides the quality protein and fat that deer need for more energy and better all-around health. Buck Draw's formulation is especially necessary to promote a healthier doe population during and after conception, healthier fawns and larger, stronger antlers in bucks.
As an attractant, Buck Draw has an enticing, powerful aroma that will draw in deer from long distances. Combine this attention getting aroma with its irresistible taste and you can be sure deer will seek out Buck Draw and keep coming back consistently time after time. This is especially important during the hot summer months when deer would normally prefer to stay in the shade.
Buck Draw is sold in convenient 25 lb. bags and is easy to use. Simply apply small portions along shooting lanes, trails, around game cameras, in normal feeding troughs or in open areas.
To keep deer coming back regularly replace Buck Draw on a regular basis. Deer will return so long as Buck Draw is available.
About In SIghts Nutrition Solutions
In Sights Nutrition Solutions produces a full line of feed supplements and attractants for breeders and consumers for deer, hogs, turkey and bear.
For more information, please visit www.InSightsNutrition.com.